80 Great Portland Street
London W1W 7NW
T +44 (0)20 7907 2800
F +44 (0)20 7907 2801
www.jla.co.uk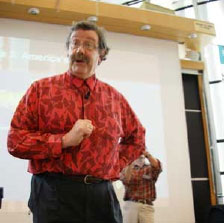 SPEECH TITLES
Opportunities in Developing Market Economies
Transition Economies
Jonathan Story (France)
One of the few who understand the complex interplay of politics, market forces and business strategies, Jonathan Story is Professor of International Political Economy at INSEAD and the Shell Fellow in Economic Transformation.
Jonathan predicted key events and trends such as the fall of the Berlin Wall, the East Asian crisis and the Russian financial meltdown. His clear understanding of political, commercial and cultural differences makes his findings invaluable to businesses with an international interest
As chair of a consultancy firm for country risks, Jonathan now develops case studies on nations which have gone through and are undergoing regime change. In Europe, Asia and the Middle East, he has established which factors influence the change process and focuses on the problems facing companies trading in such conditions.
Looking at the other side of the globe, Jonathan's book China: The Race For Market explores the opportunity and alarm caused by its rapid rise. He argues that it is essential to understand the forces shaping China's future before you can make a strategy there, and asks the question 'How do western business people operate in such a complex and dynamic environment?'
Jonathan serves as a consultant to governments, international organisations and multinational corporations.
© Copyright JLA: All Rights Reserved