80 Great Portland Street
London W1W 7NW
T +44 (0)20 7907 2800
F +44 (0)20 7907 2801
www.jla.co.uk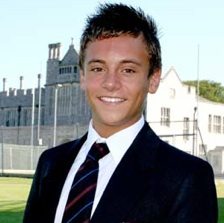 Tom Daley
Tom is an English diver who represented Great Britain at the 2008 Summer Olympics, where he was Britain's youngest competitor. A year on, he became the individual FINA World Champion in the 10-metre synchronized event and later won two gold medals for England at the Commonwealth Games in India. Tom's successful early career has led to him being voted BBC Young Sports Personality of the Year three times.
Tom lives in Plymouth with his mother, Debbie, and two brothers, William and Ben. His father, Robert Daley, died of a brain tumour in 2011 after a long battle with cancer. He had been a continuous support to Tom during his career and was determined to watch his son perform at London 2012. He had previously stated that "London 2012 is a massive motivation for me. And I am going to be there. Tom is the oil in my lamp and he's going to keep me burning."
At 13, Tom became a celebrity supporter of ChildLine, a children's helpline run by the NSPCC, and at that time it was revealed that he had been bullied eighteen months earlier. Daley was praised in the media for speaking out about the problem.
© Copyright JLA: All Rights Reserved