80 Great Portland Street
London W1W 7NW
T +44 (0)20 7907 2800
F +44 (0)20 7907 2801
www.jla.co.uk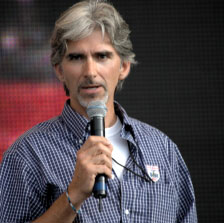 SPEECH TITLES
The will to succeed
Life on the circuit

Damon Hill OBE
It is not easy having a famous father and even harder to succeed in a field in which they have excelled. But Damon Hill achieved just that when, like his father Graham, he became Formula One World Champion.
In fact, Damon is the only son of a world champion to win the title - and the challenges he had to overcome make his success all the more admirable. When his father was killed in a light aircraft crash (when Damon was fifteen), the family were left in drastically reduced financial circumstances. Damon worked as a motorbike courier to finance his education and started his racing career on two wheels, winning the 350cc Clubman's Cup at Brands Hatch.
Whilst working as a test driver with Williams, Damon made his Formula One debut for the then impoverished Brabham team. After an inauspicious start, he took the first of his 22 victories, at the Hungarian Grand Prix, for Williams the following year.
Damon's controversial rivalry with Michael Schumacher, both on and off the track, provided rich fodder for the motor racing press throughout the mid-nineties. When the two collided at the Australian Grand Prix, Schumacher snatched his first title by a single point. Two years later, after another Schumacher victory and a runner-up placing, Damon took eight victories and eventually the world championship.
As President of the British Racing Drivers' Club and former F1 World Champion he also succeeded in securing the long-term future of Silverstone. After dinner Damon talks about living in the fast lane without losing self-discipline - and playing guitar on a Def Leppard album.

© Copyright JLA: All Rights Reserved