80 Great Portland Street
London W1W 7NW
T +44 (0)20 7907 2800
F +44 (0)20 7907 2801
www.jla.co.uk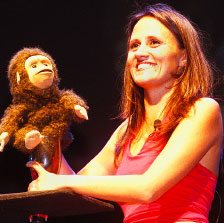 Nina Conti
Nina Conti ran away from the Royal Shakespeare Company to become a ventriloquist. She has since wowed audiences from Harrah's Casino in Las Vegas to the Edinburgh Festival. Her sidekick Monk claims Nina's act is 'genre-defying', but then he's full of foam and lives in a small box, so what does he know?
Nina takes ventriloquism away from traditional family entertainment towards something more edgy. Her own clean-cut image and Monk's cutesy appearance cannot disguise his basic animal needs and a less than wholly innocent outlook on life. With Nina's Scottish grandmother also joining the pair on stage, it all adds up to an utterly convincing, technically flawless and downright hilarious show.
Nina's many live performances include Let Me Out, a one-woman ventriloquial farce written especially for her by Ken Campbell. She has also appeared as a weather presenter (with Monkey) in the Hollywood film For Your Consideration, and as Dylan Moran's ex-girlfriend (without Monkey) in Black Books. Other TV credits includes Ant & Dec's Saturday Take Away, Loose Women and the comedy series Single.
"Nina was exceptional. We were actually quite shocked, but that made it all the more hilarious!" Diageo
© Copyright JLA: All Rights Reserved