80 Great Portland Street
London W1W 7NW
T +44 (0)20 7907 2800
F +44 (0)20 7907 2801
www.jla.co.uk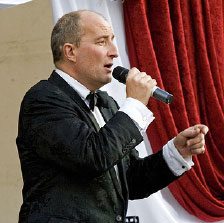 Kit & The Widow
Kit & The Widow are Kit Hesketh-Harvey and Richard Sisson. Their distinctively British brand of musical humour has attracted a loyal following and led to a sell-out run in the West End. With characteristically elegant turn of phrase, Kit himself has described their offering as 'the finger food of high art'.
Donning white tie and tails in homage to the golden age of Noel Coward, the cabaret show includes a tribute to the good taste, if not always originality of Andrew Lloyd Webber. With Richard on piano, they romp through whatever scandals are hitting the headlines, just as Flanders and Swann gently satirised the peccadilloes of a previous generation.
Television credits include The Royal Variety Performance. They also enjoyed their own series on Radio 2, Cocktails with Kit & the Widow, and Kit continues to pop up frequently on Just a Minute. When not performing Kit writes screenplays; Richard is a musical director and composer of several ballets.
© Copyright JLA: All Rights Reserved