80 Great Portland Street
London W1W 7NW
T +44 (0)20 7907 2800
F +44 (0)20 7907 2801
www.jla.co.uk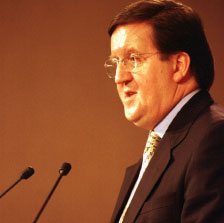 SPEECH TITLES
Global security
Change management and crisis control
Rt Hon Lord George Robertson GCMG
As Secretary General of NATO, Lord Robertson was described as 'the most powerful Scotsman in the world.' Since leaving public office he has been appointed President of Chatham House and Executive Deputy Chairman of Cable & Wireless.
George Robertson was born in the village police station on the Isle of Islay, into a family of policemen. He began his career as a union organiser in the Scottish whisky industry. Then as MP for Hamilton he began to specialise in foreign policy, and to build a lasting reputation for both Atlanticist and pro-European views.
He was Opposition Spokesman for Scottish and Foreign Affairs, as well as Defence. On New Labour's first election victory he became Secretary of State for Defence, but within three years he left parliament to take up the lead role at NATO during what became a tense period in UK-US relations.
Robertson believes that greater cooperation is needed between EU states, particularly on security and defence issues. He also argues for collaboration to counter several other threats, from global pandemics to organised crime and climate change.
© Copyright JLA: All Rights Reserved