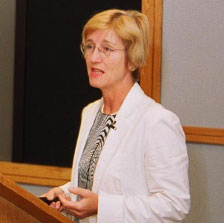 SPEECH TITLES
Business and the Environment - Friends or enemies?
The death of distance - How technology changes everything
The company of the future - A sideways look at a corporate future
A macro-economic overview
Frances Cairncross CBE
Journalist Frances Cairncross is one of the UK's most respected economic commentators. Formerly Management Editor of the Economist, she has held senior positions at The Times, The Banker, The Observer and The Guardian and presents BBC Radio 4's Analysis programme. Her broad-based knowledge of economics encompasses environmental change, the internet and mass communications.
After reading Modern History at St Anne's college, Oxford, Frances gained an MA in Economics from Brown University, Rhode Island. She holds honorary degrees from Trinity College Dublin, Glasgow, Birmingham, Bristol, Cardiff, City, Loughborough and Kingston Universities. Frances is Rector of Exeter College, Oxford and immediate past President of the British Association for the Advancement of Science.
As a business speaker, she draws on her wealth of experience to provide insightful and practical assessments of the economic scene. On the issue of climate change, Frances argues that policies that prepare the world to adapt to it are now just as important as efforts to slow it down. She relates these issues to the corporate world in her presentation, Business and the Environment - Friends or Enemies?
As a futurist, Frances examines the forces that will shape twenty-first century businesses and economies. Her book on the subject, The Company of the Future, won her the Institute of Internal Auditors' award for business and management journalism.
Frances also speaks on the subject of the internet and the global communications revolution, which she examined in her book The Death of Distance. She discusses how the web will change companies and outlines how businesses, governments and environmentalists can make common cause.
"Extremely relevant" Association of Insurance Risk Management