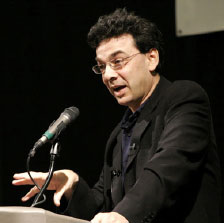 SPEECH TITLES
Economics on Demand
How the World Works
Stephen J Dubner (US)
A prolific journalist, from a newspaper family, Stephen J Dubner is perhaps best known for his international bestseller Freakonomics. Written with University of Chicago economist Steven Levitt, the book became a worldwide phenomenon, selling more than four million copies, in more than thirty languages.
Freakonomics is based on Levitt's original research. The two Stephens set out to explore the inner workings of the world around us - the unseen mechanisms that make things tick. They point out the clues to what is really going on; clues that are staring us in the face: The truth about real-estate agents; the myths of campaign finance; the telltale marks of a cheating schoolteacher, even the inner workings of a crack gang and the secrets of the Ku Klux Klan. By examining the forces that are working below the surface, Freakonomics shows that the modern world, despite all its complexity (and, to be honest, deceit), is not impenetrable. All it takes is a new way of looking.
Stephen was an editor and writer for The New York Times Magazine. He has also written for The New Yorker, Time, The Washington Post, and his journalism has been anthologized in The Best American Sports Writing and The Best American Crime Writing. Having published several other books, (including one about the Jewish religion and a children's book), the sequel to Freakonomics, Superfreaknomics, was published in 2009.
The success of the first book has made him an in-demand television guest, with appearances on all the major news and current affairs shows. He has been a PBS correspondent, and is currently a regular contributor to ABC News, appearing on Good Morning America and World News Tonight. He and Levitt also write a monthly column for The New York Times, and maintain www.freakonomics.com, which has been called "the most readable economics blog in the universe."
Stephen shows how economics is, at heart, the study of incentives; how people get what they want, or need, especially when other people want or need the same thing.