80 Great Portland Street
London W1W 7NW
T +44 (0)20 7907 2800
F +44 (0)20 7907 2801
www.jla.co.uk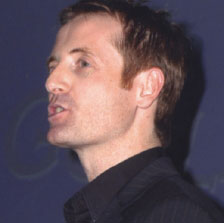 SPEECH TITLES
Training your mind
Raising the bar
Steve Smith
Steve Smith is Britain's most successful high jumper. After being told he was too short to become a world class competitor, he persevered and went on to win medals in every major championship including the Olympic Games. His personal best was a remarkable 2.37 metres, or 7 feet 10 inches.
As a relative unknown Steve risked everything in the final round at Barcelona to have one last attempt at glory. The gamble didn't pay off but it proved a significant turning point. Later that year he established a British and Commonwealth record that remains to this day.
His ability to respond to the pressure of an 'all or nothing' third attempt earned him a reputation as a mentally tough competitor. He went on to take bronze in Atlanta, a feat no other British jumper has managed in the last 100 years.
Steve captained Team GB at the European Championships, where his rousing talk set the scene for our highest ever medal tally. He now shows conference delegates how anyone can raise their level of performance to previously unimagined heights. He explains how to train your mind to work in your favour: "When we set new goals, our subconscious prepares itself to go about achieving them."

"We absorbed every word - Steve resonated with the entire audience" Barclays
"He told his story with passion and humour, and had the audience completely captivated." tesco.com
© Copyright JLA: All Rights Reserved