80 Great Portland Street
London W1W 7NW
T +44 (0)20 7907 2800
F +44 (0)20 7907 2801
www.jla.co.uk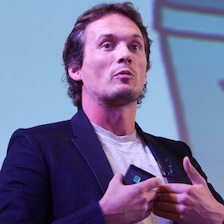 SPEECH TITLES
An Innocent story
61/2 rules of success
Keeping to core beliefs

Richard Reed
Richard Reed is co-founder of Innocent. Challenging conventional business methods, the company sell over a million drinks each week and hold a 70% share of a growing market. They also set new standards by running everything on green energy and giving 10% of profits to charity.
The initial plan was simple. With £500 of produce, Richard and friends set up a stall at a music festival. Two bins, labelled YES and NO, were placed next to a poster that read 'Should we give up our day jobs to make smoothies?' By Sunday evening the YES bin was so full they immediately resigned.
Since then the combination of an all-natural product and a slightly anarchic approach has helped Innocent gain huge visibility and respect. Richard and his team have been voted Ernst & Young Entrepreneurs of the Year, and invited to Downing Street to offer advice on creating the right environment to encourage new businesses.
Richard's business mantra centres on simplicity, caring deeply about the product and the wider picture, involving the workforce, focusing on detail, listening to criticism - and letting image look after itself.
"Richard stole the show!" The Diamond Trading Company
© Copyright JLA: All Rights Reserved