80 Great Portland Street
London W1W 7NW
T +44 (0)20 7907 2800
F +44 (0)20 7907 2801
www.jla.co.uk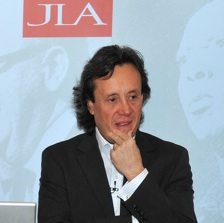 SPEECH TITLES
Unlocking leadership talent
Aligning intentions, promises and actions
Dr Javier Bajer
Q&A
JLA: What have we learned from this recession?
JB: A few organisations decided to invest in development rather than the typical knee-jerk reaction to recession - to shrink costs. Today they are doing much better than before. Others learned that people don't just work for money.

JLA: So what has changed?
JB: Values (true ones, not those you see on coffee mugs) are starting to be taken seriously. 'Why do I come to work?' is becoming a more important question. This is only the start of a long quest for meaning, individually and organisationally.

JLA: What can we do to ensure sustained recovery?
JB: Align everything (processes, metrics, policies, tools, structures, careers and rewards) to add customer value. Stop reinforcing internal loops which only drive silo mindsets and result in a 'you owe me for working here' culture. Instead focus on what is outside the organisation.





JLA: What qualities make a great leader?
JB: Leadership is not something that only the guys at the top must do. I define it as 'the ability to create movement and deliver value'. The opposite is victimship - the tendency to do little whilst having a list of 'reasons' to justify why things cannot be changed right here, right now.

We must be self-critical, which takes great courage and practice. Identifying the traits of victimship is the first step toward becoming a positive force for change and action. Great leaders know how to align their beliefs, intentions, promises and actions in everything they do. They create environments where others can do the same.
© Copyright JLA: All Rights Reserved