80 Great Portland Street
London W1W 7NW
T +44 (0)20 7907 2800
F +44 (0)20 7907 2801
www.jla.co.uk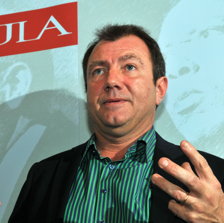 SPEECH TITLES
Turning Dreams into Reality
Brand and Reputation
The Importance Of A Visible Leader
Moving into New Markets
Achieving great things with less
Will Whitehorn
SPEECH EXTRACT
Space, as Star Trek would have it, is the final frontier but pioneering work is underway to bring that once distant frontier much closer to home.
Virgin Galactic, possibly a natural development from train and air travel for the enterprising and entrepreneurial Sir Richard Branson, is poised to make commercial space flight an everyday event. Bookings are already being taken and the first flights may be underway as early as 2009.
"It's is a unique offer," says Virgin Galactic President Will Whitehorn. "There are others who are now talking about building systems able to do some of what we're planning - like EADS Airbus who are talking about a sub-orbital space tourism vehicle in 2012.
"But at the moment we are the only organisation actually building the technology to allow people to go into space. We hope to be test flying by the end of 2008 and in commercial service by the end of 2009. There are a total of 80,000 people who've registered on the website who would like to fly at some stage in the future."
Like Kevin Costner's "The Field Of Dreams" movie it seems to be a case of "Build it and they will come". And building it they are: "Virgin Galactic is developing a unique technology," Whitehorn explains. "A very heavy lift aircraft called White Knight II which is capable of carrying a 30 ton payload up to 55,000 feet.
"Not only can we launch a spaceship that can carry people but we can also develop a payload launcher enabling us to launch little low orbit satellites. If they can be launched cheaply there could be a communications revolution. There's never been a cheap and safe methodology to get them into space before. So that's one of the things we're looking at in addition to the space tourism side of the business."
SpaceShip One - the prototype that inspired the Virgin Galactic dream - was flown into space in 2004 on two separate missions. That spaceship then went as a prize exhibit to the Smithsonian Museum in Washington DC. Only two people flew the prototype but more will soon follow if plans develop smoothly, and Whitehorn expects he will be on the SpaceshipTwo test vehicle at the back end of the test-flying programme. Once the testing is complete, Virgin Galactic is expecting to establish daily flights of about two-and-a-half hours - to about 100 miles up. The inaugural commercial flight is expected to be carrying Sir Richard Branson and members of his family and the man who designed the vehicle, Burt Rutan.
"Our passengers will experience a few minutes of pure weightlessness when they'll be able to float about the cabin freely and we're designing the cabin to allow them to be able to do that," Whitehorn reveals. "Space officially begins at 50 miles according to Nasa and the Russians define space as 100 kilometres - 62 miles. So we'll be going higher than either of those estimates of where space begins. We believe this system can be developed into a full orbital system eventually.
Unsurprisingly, it's the notion of commercial space travel that has grabbed most of the headlines so far, but there are other potential benefits in addition to the payload work already mentioned.
"There's a lot of research currently carried out with unmanned sub-orbital sounding rockets where micro-gravity experiments are done - for instance trying to mix chemicals in a weightless environment to create new types of drugs for treating diseases or to create new compounds. The beauty of this system is that you can send the scientists up with the experiments. At the moment they have to be done in extremely careful automated conditions and it's quite expensive, we are currently developing a proprietary technology."
Like space itself, the possibilities are infinite.
© Copyright JLA: All Rights Reserved