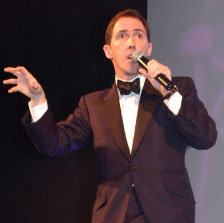 Rob Brydon
AS IT SHOULD BE -
by Rob Brydon - Esquire Magazine Oct 08
Hosting an awards event can be the ultimate barometer of whether you're hot or not, as our columnist discovers.

Tact is something that cannot be taught. Some have it, some don't, and some wouldn't know it if it sat on their face and farted the theme to Begerac. the fact that I have been blessed with almost super-human quantities of the substance makes it all the more difficult for me when I encounter those who possess little or none.

One of the lesser known facets of my wonderful life is the hosting of the odd corporate awards do. Often the organisers like to meet up a few weeks before the event, to talk through their plans for the evening. there's no real need for such a meeting, as generally speaking one corporate awards do is much like another, but these pre-match summits seem to be popular with the people who plan them, so who am I to foul the footpath? At one such meeting, all was going well until it was casually mentioned that the identity of the host was a well guarded secret, only to be revealed as I walked out onto the stage.

Oh dear.

In this utopian vision of the awards do to end all awards dos, my entrance would no doubt be greeted with massed gasps, dropped jaws and a rapidly building crescendo of celebration. Don't get me wrong; I'd love such a response, but the reality of the situation is that I've never been that sort of actor/comic/celebrity/turn. I've never been the man of the moment, Mr Zeitgeist, an"oh my god look who's here!' sort of chap. My good friend James Corden, the man of this and, I'm sure, many future moments, once told me of a lunch enjoyed in New York with the wonderful Bob Balaban*, who told him how it is the worst thing in the world for an actor to be hot. "Never be hot," he said. "Don't be cold either, just be warm." And that's how I see myself. Warm. Warm and simmering. A simmering contentment as opposed to resentment; a lovely cosy warm.

With this in mind I worried that my grand entrance, rather than eliciting the desired surprise and delight, would in fact invoke something more akin to shock.

And so we return to tact. My host went on to tell me how only a very few of the top brass back at the office were aware of who would be fronting this year's ceremony, and that the building had been "buzzing" with suggestions as to who this uber-celebrity might be. My unease grew as she bounded like a dog leaping from a pavement straight into the path of a bus, with me pulled along by the lead. "All sorts of names have been mentioned," she said, before adding as though it had only just occurred to her, "Yours hasn't come up actually." I smiled in an effort to suggest that my omission was the fault of all those out-of-the-loop idiots back at the office rather than any failing on my part. Like Monica Lewinsky's favourite dress, it didn't wash.

When the evening arrived, I bounded on to the stage to an overpowering wave of mild curiosity. I peered into the darkness... "I know," I said "I thought it was going to be Russell Brand, too..."




* You don't know who Bob Balaban is? Google him. I rest my case.
GETTING THE BEST OUT OF... CABARET
Unlike comedy club or theatre crowds, event audiences have not paid specifically to see your cabaret artist - or any other kind of live performance. Other things will be vying for their attention, the house lights will have to remain up, and a third of the guests will probably start off with their backs to the stage. Live comedy can engage and unify audiences more than any other form of entertainment, but for maximum effect it helps to follow some basic rules.

The audience must be able to see and hear the artist. If possible avoid towering table centres and an acre of dancefloor between stage and audience. When the artist arrives, usually no more than an hour before going onstage, brief him/her on the day's events and any sensitivities about the host organisation, sponsors or guests. Try to keep to the timetable, allow the audience to have a 'comfort break' before the show, ensure that waiters have cleared the room, agree how the artist should be introduced - and then leave it to him.