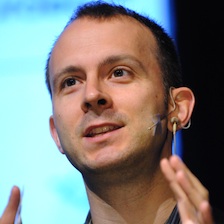 SPEECH TITLES
Why success always starts with failure
"Trust me, I'm an Economist"
The Logic of Life

Tim Harford
EXTRACT FROM JLA SPEAKERS BREAKFAST -
by Tim Harford
How do people behave in a recession?

There is a lot of guesswork in the newspapers. The Sun has a theory that sales of maternity dresses have risen - as a result of people indulging in a low-cost enjoyable activity.

Economists believe that above all, people's behaviour is shaped by incentives. Benjamin Franklin famously said that nothing is certain but death and taxes. It turns out he was wrong.

In 1979 the Australian government announced the abolishment of inheritance tax with effect 1st July. Very curiously the death rate began to fall sharply in late June, kicking up in early July.

Then they announced that any baby born after 1st July would be eligible for a bonus of $3000. The birth rate on 1st July was the highest in Australian history, double the birth rate on 30th June. So whether you are entering the world or leaving it, people respond to incentives.

Disposable income has not yet fallen, but spending has. This is caused by fear. Consumers will cut back - but what on? In one word - socks.

The obvious choice would be luxuries - but this will have an immediate impact on your quality of life. In the end you might have to cut out the holidays and restaurants, but what would you do first? You have a virtual savings account - the things around your house which you would like to replace but don't have to. The hard durables like your washing machine, your car, and the soft durables, such as socks.

Whether you are dealing with suppliers, business customers or consumers, if you don't recognise that everyone is having a different experience, you are in trouble. We forget that some people are having an OK time, because the mainstream media is focussed on the average and on average in a recession people are poorer. But many people are doing very well. At the end of the last recession half the country was substantially richer than at the beginning.

The message is that individual experience completely swamps the average. What happens to you in a recession is much more to do with whether you decide to go to university, have a baby, take time off work, get lucky, have a promotion. This is what is most important for the individual.





THE ECONOMICS OF DAILY LIFE -
by Tim Harford
Crunch Time.

There are 'good' and 'bad' recessions for consumer spending, with cutbacks often in unexpected places. Tim contrasts the hysterical tabloid stories with the latest research on consumer behaviour, and shows why competitive advantage goes to the companies who can target their discounts selectively.

The Logic of Life

When a teenager embarks on a burglary or a smoker lights another cigarette we seem to be a million miles from rational behaviour. None of it makes sense - or does it? Weaving stories from casinos and speed-dates with a new breed of economics, Tim shows we are all surprisingly logical.
SCENARIO PLANNING
Companies have two forms of memory - memory of the past and memory of the future. In scenarios, the individual attempts to create future memories for the company. Most consultants deal with the past or current problems in an organisation. In scenario planning, they try to build positive future memories in order to disrupt the thinking, which could hold them back - in order to counter the problems such as..... we can't do this... last time we tried it this failed .... by installing a positive future outlook it encourages the corporation to go into a project with belief as opposed to reticence.
DON'T BLAME THE ELITE -
by Tim Harford
Economic progress is largely a matter of trial and error.

For years, we were told that Wall Street attracted the very best. That was why American investment banks were the envy of the world; that was why stratospheric salaries and bonuses were essential. Other financial centres, such as London, fought tooth and nail to attract the same elite. They were worth it, we were told: If you pay peanuts, you get monkeys.

That argument seems hollow now, but it was always a misunderstanding of the way financial markets work--indeed, the way the whole growth miracle of capitalism works. It's not that financial markets themselves are a sham: There are indeed very smart investment bankers in the world, and some of them help to make us all richer by providing a bridge between those who could use money and those who have money. It's just that this is not the whole story.

The fact of the matter is: The market system does not work because of the incredibly smart people in charge. (The Soviets had some pretty smart people.) The market system works because nobody is in charge.

Even when markets surround us, we prefer to forget this. It is easier to focus on personalities, so the financial press like to talk about the leadership of great CEOs. When things go wrong, we search for fools and frauds: a Dick Fuld or worse, a Bernie Madoff. We think that the elite betrayed us or that the elite wasn't as smart as everyone thought. Politicians--temperamentally inclined to believe in the "great man" theory of everything--tend to agree.

The truth is that markets stumble upon prosperity. New ideas are constantly being tried out. Most of them are bad, but that is fine, because markets ruthlessly eliminate bad ideas. A few of them are good, and that's enough, because good ideas spread fast in a market system. In the language of biology, markets are evolutionary environments that select very powerfully for wealth-creating organizations. They attract the smart people to the right places, magnify their good qualities and smother their failures.

Once we accept that economic progress is largely a matter of trial and error, with accidental successes catching on and bad ideas failing really fast, the financial crisis itself looks very different. Yes, there were a lot of ideas out there that seemed smart but turned out to be flawed: issuing bad mortgages, repackaging them and betting big on the outcome. But that wasn't the root of the problem. Every day, thousands of ideas that seem smart turn out to be flawed. A small firm might go bust, some people might have to look for new jobs, but there is no catastrophic consequence for the country as a whole.

This time, the problem was that the seemingly smart ideas simply didn't fail quickly enough. This was largely because they grew so fast. Credit default swaps--quasi-insurance contracts that, unlike real insurance, can also be used to make side bets on the likelihood of financial distress--are barely a decade old. When the dot-com bubble burst, they were a niche market. Yet last summer, the Bank for International Settlements estimated that there were almost $60 trillion of over-the-counter credit default swap contracts outstanding. (The market had doubled in size in the year preceding the credit crunch, June 2006 to June 2007.) Such astonishing growth exemplifies the exotic instruments that entangled a brave new financial system. By the time the vulnerabilities of the new ideas became apparent, they were large enough to take down the world's banks.

Next time, we're going to have to make sure that the next clever financial idea grows a little slower or is tested a little earlier. One way or another, early failures are better than late ones. As for the elite, I'm not too worried. They'll be able to find something useful to do--even if it isn't on Wall Street.