80 Great Portland Street
London W1W 7NW
T +44 (0)20 7907 2800
F +44 (0)20 7907 2801
www.jla.co.uk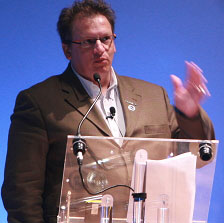 SPEECH TITLES
Business Recovery
Guarding and 'Living' the Brand
Lessons from a Serial Entrepreneur

PY Gerbeau
WHEN THE GOING GETS TOUGH -
by Pierre-Yves Gerbeau
Change and crisis management is about protecting your customers, your people, your brand and your business.

There is no single, universal prescription. Every situation and organisation is different; every country and market has its specific characteristics. But at the heart of every action plan is the need to understand employees' and customers' behaviour, motivation and expectations. Walk the floor, listen to customers, communicate the vision and lead by example.

Be flexible, keep an open mind and surround yourself with people who challenge the usual ways of thinking. Anyone who believes he or she is always right is wrong. The leadership team must be adaptable, agile, accountable, able to prioritise and to balance risks. It must take quick, pro-active decisions and work for quick wins on priority areas.

When taking tough decisions be fair, firm and consistent. Be prepared for those, including hard-core sceptics and some middle management, who seek to obstruct progress. Managing change is not a popularity contest - but always remember to treat others as you would want to be treated.

Brand values and reputations take years to build and moments to destroy, so protect them.

Make sure the promise and ethics of the organisation are understood and spread by employees and business partners. They are the keepers of the brand.

Above all, leaders must remember that their best asset is not product or strategy, but people. With a proper management culture and values, even a tough trading environment brings opportunities.
© Copyright JLA: All Rights Reserved