80 Great Portland Street
London W1W 7NW
T +44 (0)20 7907 2800
F +44 (0)20 7907 2801
www.jla.co.uk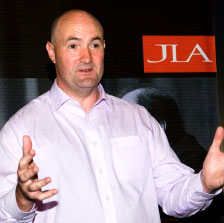 SPEECH TITLES
Motivating on a shoestring
Helping ordinary people create extraordinary organisations
Adrian Webster
Q&A
JLA: What for you is motivation all about?
AW: I can understand people finding inspiration to climb mountains, sail oceans and trek to the poles - fantastic! But my interest is in what motivates people in the real world to get out of bed, climb their own mountains and make a difference in their workplace, day in, day out.

JLA: How did you get into motivational speaking?
AW: Out of necessity - to get a group of ordinary people to deliver extraordinary results on shoestring budgets. During tough times I had to motivate and retain a team of 150 very diverse people. My fun motivational 'chats' and unusual delivery style proved popular and I found myself being invited to go and have 'a chat' with other companies.
POLAR BEAR PIRATE WORKSHOPS -
by Adrian Webster
Inspiring ordinary people to deliver extraordinary results.

These three unique workshops will challenge your people to really make a difference.
_

Ordinary People - together delivering extraordinary results_
Attendees will be given a whole new world of practical Polar Bear Pirate motivational tools that they can easily relate to, take away and put into day to day use. They will come away, not only inspired but pulling together as one big team, re- energised, more productive and ahead of the competition on the road to Fat City.

SONAR Leaders - engaging and inspiring their people
For managers who need to lead, engage and inspire their people. This challenging and thought provoking workshop is all about getting the very best out of individuals, bringing them together to work as one high performance team and achieving outstanding results on shoe string budgets, day in, day out.

Putting Customers At The Heart Of Everything We Do
This practical workshop focuses on simple but highly effective techniques that are guaranteed to help you go way beyond your customer's expectations - without spending any money! Those attending will discover the explosive effects of TNTs (Tiny Noticeable Things), that they will be able to deploy and see instant, tangible results.

© Copyright JLA: All Rights Reserved