80 Great Portland Street
London W1W 7NW
T +44 (0)20 7907 2800
F +44 (0)20 7907 2801
www.jla.co.uk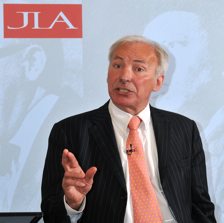 SPEECH TITLES
The economic, financial and business scene
The challenges for business
Anthony Hilton
REASONS TO BE OPTIMISTIC -
by Anthony Hilton
Norman Lamont's political career was effectively over when as Chancellor he claimed to see the green shoots of recovery - only to be met with derision. History is now repeating itself. The default mode for economic and financial pundits is unalloyed gloom. Anyone who suggests things are not so bad is treated with disdain. But the economy will be better in the next year.

Of course there are things that could go wrong - with the impact of government cuts, the need to fund the national debt, the squeeze on incomes caused by tax rises, inflation and personal indebtedness, and problems in the Eurozone. But most of these are manageable.

We have managed much larger national debts without difficulty in our past, the squeeze on incomes is offset by rock bottom interest rates and stability in the housing market. Germany has the resources to support the Euro and the weaker peripheral nations. She also has a strong reason to do so: the cheap currency makes German exports much more competitive.

British companies have come through this recession far better and faster than earlier ones. Exporters are benefitting from a 25% devaluation of sterling. Even modest inflation is a good thing: a price rise of 4%pa halves the real value of the nation's debts in nine years. Meanwhile unemployment is lower than predicted (perhaps because the immigrant workforce has taken some of the strain), and house prices have fallen far less than people expected - underpinning personal spending and financial security.

History is on our side. Both the 80s and 90s recessions were followed by six years of growth at 3.5%, significantly above the long-term trend. The policies put in place by Ken Clarke in 93 were almost identical to those of today: devaluation, a public sector squeeze and a VAT increase - endowing Tony Blair's incoming government with sound public finances and buoyant revenues.

If the recovery continues as I think, add in the regeneration and sale of the banks and a positive boost from the Olympics, and as the next election approaches the Coalition could be popular to an extent most people cannot currently imagine.

February 2011

Q&A
JLA: What shape do you expect the recovery to take?
AH: 2010 may be more buoyant than most economists predict. The global economy was stopped by pressing a button on a keyboard; instead of taking two years to slow down it all happened in three months. The bounce back can be equally rapid, because the downturn hasn't lasted long enough to dent people's deep-rooted optimism or force them fundamentally to change their behaviour.

JLA: What if we have a hung parliament?
AH: The markets would see it as a sign of political weakness. In the absence of clear policies to sort out the fiscal mess, government credit and sterling will collapse - plunging us back into crisis. It is the biggest risk for 2010.

JLA: Do you expect debt and increased taxes to hold back recovery?
AH: No, because recovery should come before the debt is tackled. We can't cut our way out of the mess and we can't tax our way out. The only way is to grow.

JLA: Which sectors are most likely to provide the engine for growth?
AH: Finance (including banking) will have a good year, and house builders and motor manufacturers will do better than expected. The creative industries will be lively from games software to advertising and media. Exporters should do well on the back of the weak pound.

JLA: How might the UK fare relative to other major economies?
AH: I don't think we'll conspicuously lag behind other major economies. Provided the election delivers a clear result, we will exceed the 1-1.5% growth predicted by Alistair Darling. We're in much better shape than politicians and the media would have us believe.

JLA: What about public spending cuts?
AH: There needs to be a serious debate about the role of the state and what can better be left to the private sector. The Tories may initiate this, but they might be too shrill to build the necessary consensus. We would also solve most of our problems by steadily increasing the retirement age to 70 over the next 20 years.

JLA: Is the low pound here to stay - and does it bring a net benefit?
AH: Sterling was over valued, mostly because we were borrowing so much from overseas. If we're to have a more balanced economy, less dependent on hyper finance, we need a lower pound. It's more important that it stays stable once it has found a level, than what the level is.

© Copyright JLA: All Rights Reserved