80 Great Portland Street
London W1W 7NW
T +44 (0)20 7907 2800
F +44 (0)20 7907 2801
www.jla.co.uk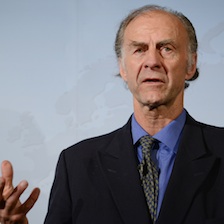 SPEECH TITLES
Performing under extreme pressure
Preparation, perseverance and pulling together - in the face of extreme pressure
Sir Ranulph Fiennes Bt OBE
Q&A
SIR RANULPH FIENNES


JLA: What can a manager learn from an explorer?
RF: One example is the need to balance short-term caution against long-term dangers. Maybe it's best to press on today even if the conditions are risky, to avoid delay causing even greater hazards tomorrow.

JLA: How can you re-build confidence when the situation seems hopeless?
RF: There's never any point crying over spilt milk. In order to win some of your big goals you are bound to lose others along the way. The key is to learn from the failures and keep going.

JLA: What is your formula for beating the competition?
RF: It's bad practice to allow your chief rival a clear run at the main prize without even mounting a challenge. Beware of putting successful rivals on a pedestal, feeling inferior and believing them to be invincible. This will only lead to a loss of the very self-confidence you will need to battle on.

JLA: How do you help your whole team adapt to change?
RF: Be flexible most of the time, but remember that one option is to be inflexible some of the time. Trust your instinct and experience.






© Copyright JLA: All Rights Reserved