80 Great Portland Street
London W1W 7NW
T +44 (0)20 7907 2800
F +44 (0)20 7907 2801
www.jla.co.uk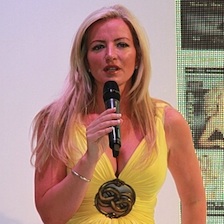 SPEECH TITLES
Turning ideas into reality
Challenging your boundaries
Michelle Mone OBE
Q&A
JLA: How can business re-build confidence and rekindle ambition?
MM: Nothing is more important than staff retention. It's all about how you treat each other day-to-day - and how you deal with customers and suppliers. Good communication, reliability, integrity, competence and professionalism breed a positive culture that underpins all levels of the business.

JLA: Which sectors are most likely to thrive?
MM: E-commerce will keep growing despite the weak economy, because consumers know the web is one of the places to get a good deal. Meanwhile the web gives entrepreneurs access to a live focus group to analyse trends and test products cheaply, so it's a breeding ground for thriving businesses.

JLA: Did you learn anything new from recession?
MM: I learned to adapt, and to make change part of company culture. Every business needs to work harder as a team to ensure it weathers the storm. Recession also offers a great opportunity to improve the work ethic.

JLA: Is entrepreneurialism a natural condition, or can it be taught?
MM: The skills can certainly be taught, but to be creative and innovative, to take and manage risks, and to do so with determination and drive, is something that comes from having fire in your belly. Entrepreneurship is not born from a good business idea, but from making that idea a reality. It is the key to building real sustainable businesses and should be cultivated and instilled in people early on.

JLA: How can you create a culture of innovation?
MM: Innovation isn't just about improvement; it's about challenging perceived boundaries and always being one step ahead of the competition. An innovative working culture encourages all employees to generate and capture new ideas - innovation exercises creativity and funds growth, and is therefore an absolute essential for building a successful business.

60 Seconds INTERVIEW

How did you get into the bra business?
I started 13 years ago after I was made redundant. I went to a dinner dance with my husband and wore a very uncomfortable cleavage bra and decided to invent a more comfortable one. We're in a huge financial crisis but we need to stop being 'doom and gloom Britain'. I was on a radio phone-in and a caller said he'd been made redundant and was miserable. I told him to put a smile on his face because the same thing happened to me; if it hadn't, I wouldn't have my business today.

Which company made you redundant?
I grew up in the East End of Glasgow and left school at 15. I started working in admin at Labatt Breweries, worked my way up and in two years I was running the whole Scottish arm. But I was made redundant when the business was sold.

Isn't this a really bad time to become an entrepreneur?
If you've got a great idea and passion you can convince a bank to lend you money. Write a good business plan, tell your backers how you're going to do it, rely on your family as much as you can until you employ people and design and register your product immediately, before it's in the public domain. Keep an eye on the cash and have a can-do attitude.

Did you really have a poster of Richard Branson on your wall as a teenager?
Yes - and I told him about it when he invited me to his party. I'd always looked up to him. When I was growing up, there wasn't a famous entrepreneur apart from him so that's what I gravitated towards.

What are the most common mistakes women make when buying bras?
Women think they're all the same size, which seems to be a 32B. When you're buying a bra, you need to be fitted each time and stick with a brand you trust. You should invest in a good bra that can last for years.

Wasn't replacing Penny Lancaster with Rachel Hunter in your adverts a bit gimmicky?
I'd worked with Penny for two years and, to be honest, things had got rocky towards the end. When we used Rachel instead, I knew it would cause a stir but I didn't know it would go worldwide. Overnight, everyone was talking about Ultimo - it was the PR coup of the century.

Presumably that must have p***ed Penny off?
Yes, and Rod was very annoyed and called me all the names under the sun, but it was good for all of us. We're all old enough to get on with it.

Are you going to do more TV work?
I talk about how the contestants have done on The Apprentice: You're Fired! I'm asked to do things such as Dragons' Den and I'm A Celebrity... but The Apprentice is the show I love, I don't just take up any opportunity to get my face on the telly, it's got to make business sense as well.

The episode you had a go at Katie Hopkins was much talked about, what brought that on?
It's one of the most watched Apprentice clips on YouTube. I just speak my mind and she deserved it.

Why did she get your goat?
She thought that trying to be a businesswoman meant she had to be backstabbing and bitchy. She was just there to make a name for herself. I couldn't stand her, she was slagging everyone - people from the north, people who shop using mail order. I thought I was polite with her...

What's been your most extravagant purchase?
Pens. I love Montblanc pens. My mum says 10p pens write the same but they don't. I've got more than 30 Montblanc pens - I've got the highlighters, the fountain pens, the lot. Whenever I'm in an airport, I think: 'I must go and get the new Montblanc pen.' It's my indulgence.
© Copyright JLA: All Rights Reserved