80 Great Portland Street
London W1W 7NW
T +44 (0)20 7907 2800
F +44 (0)20 7907 2801
www.jla.co.uk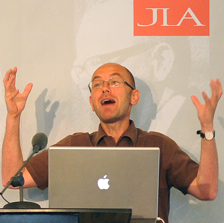 SPEECH TITLES
Business and the creative sector
Urban design
Social housing

Wayne Hemingway MBE
Q&A
JLA: How can entrepreneurial skills be fostered within a large organisation?
WH: Entrepreneurialism should be right at the heart of an organisation. It's about wanting to have fun, in an environment with creative people with active minds and a drive to change things. Why would anyone want to work in an organisation that didn't harbour these traits?

JLA: Is entrepreneurial activity more or less difficult in a tough climate?
WH: This is a fantastic time for opportunity. There is a great need for creativity and this present climate will divide the strong from the weak.

JLA: Is entrepreneurialism a natural condition, or can it be taught?
WH: It can definitely be taught. What will come naturally is the desire to do something. An entrepreneur always wants to improve things through the medium of creativity. The level of ambition and drive will be an intricate connection to the level of entrepreneurial skills.

JLA: What is (your definition of) sustainability?
WH: Sustainability isn't just about the environment - it's about maintaining a happy nature that prevents you from constantly seeking change.

JLA: Why is it key for business to take the lead, rather than politicians?
WH: It is absolutely essential that we take the lead. We need to drive ourselves and be in control of where we take our lives, not rely on those don't know a great deal about the real world.
© Copyright JLA: All Rights Reserved