80 Great Portland Street
London W1W 7NW
T +44 (0)20 7907 2800
F +44 (0)20 7907 2801
www.jla.co.uk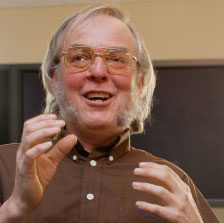 SPEECH TITLES
Innovation in space
Hitching a ride on a comet
Professor Colin Pillinger CBE
Q&A
JLA: Do scientists make good entrepreneurs?
CP: Entrepreneurs accept that only a small percentage of ideas come to fruition or make a profit. Scientists make good entrepreneurs because they know 90% of the results from an experiment turn out to be unanticipated.

JLA: How can you create a culture of innovation?
CP: Innovation is risky. Edison discovered 1500 ways how not to make a light bulb before he successfully did it.

JLA: What part does technology play in innovation?
CP: To me technology is innovation, and you can be innovative about how to get someone to pay for it - e.g. sponsoring a space mission can produce in an instrument to detect TB in Africa.

Lack of resources can breed innovation. If you don't have the money or technology to address your problem you have to think harder. Scientists thrive on problems and questions without answers.

JLA: What will the next generation of technology make possible?
CP: Overcoming the energy problem is going to get a lot of attention but that doesn't mean somebody working on their own won't find a way of allowing people to flap their arms and fly. You can't predict Eureka moments.

JLA: Which leadership qualities come to the fore when pressure mounts?
CP: The ability to respond to something which wasn't on the risk assessment. Risk assessments are for managers.


© Copyright JLA: All Rights Reserved