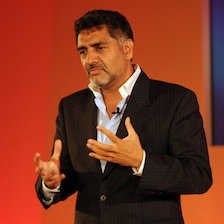 SPEECH TITLES
Recognising opportunities
Entrepreneurial creativity
James Caan
Q & A -
by James Caan
JLA: Do you have an all-purpose formula for beating the competition?
JC: My mantra has always been a phrase my father taught me: 'Observe the masses and do the opposite.'

JLA: How do you persuade those opposed to or afraid of change?
JC: To remain competitive, change is imperative. Products are becoming obsolete much more quickly. The dynamics of business are constantly changing, and so is the competition. In terms of staff, the key is full and transparent communication.

JLA: Do you have a tried and tested strategy for attacking new markets?
JC: Anyone planning to expand to new territories must do as much market research as possible before making the step: simply understand who your customers are, where they are and what they want.

JLA: What about mature businesses?
JC: All companies need to maintain an entrepreneurial culture, and a focus on people. It's very common to become too process-driven as you grow.

JLA: Are you as ambitious now as when you first launched the business?
JC: At 50 I feel like I'm just at the beginning of my journey. I've been carefully nurturing and growing my company, and in the next few years the plan is to build on those foundations and really hit new heights.

January 2011
HOW TO MINIMISE RISK
My business success has been built on recognising the importance of people. Since launching the executive recruitment firm Alexander Mann in 1985 I have invested in people businesses and inherently placed a high value on my staff. This is the cornerstone of how I now operate Hamilton Bradshaw, my private-equity investment company, and in developing the businesses in which I invest through the BBC television show Dragons' Den.

In the highly competitive business world it makes good sense to maximise the probability of success by enabling employees to be ambassadors of the brand. However, with the ongoing advent of technology, too many companies increasingly focus on procedures and processes rather than the human factor.

On a trip to Nasa, former US president Bill Clinton met a man with a broom. During their conversation he asked the man what he did at Nasa. He replied: "I take people to the moon." He knew that he worked in a team where every function was valued as being important to the overall performance of the organisation and Clinton had certainly never walked on cleaner floors.

Stuart Rose, chief executive of Marks & Spencer, is a striking example of a leader who exudes the inclusive journey; the shop floor is an important ingredient in the overall strategy of the business, and the company has thrived because of it. When management brings all components of the business into harmony they will tend to be successful by default.

How do you get people to engage with the whole ethos of the business? Most organisations emphasise the values of their leaders, but what are the values of the component parts? The key is to listen to the voices from the various departments and understand the values of the people working in them.

An interesting example is one acquisition I made last year where revenues exceeded £180m. I increased profitability by 107% over 12 months despite difficult market conditions by implementing a strategy developed using feedback from customer-facing employees. This proved to me that the whole of a business is worth more than the sum of the parts. I invariably invite an employee from the acquired company to each board meeting. First, in this way this person feels significantly involved at the highest level and is likely to tell everyone. Second, and most important, these presentations usually offer up some gems of useful information. I continue to use this technique across all my business interests.

Regrettably, if people have a great idea, in most firms today their first impulse is to leave and join a rival or set up in competition themselves. In 90% of these cases the idea will relate to the everyday operation of the organisation, and the first port of call should ideally be the company itself. It is so important for business leaders to establish a level of communication that ensures retention of creative staff and not let this intellectual property go out of the door. To lose them in today's competitive market risks launching a dangerous competitor.

When I owned Alexander Mann I was approached by a very smart employee. She had come up with an idea, way ahead of its time, that would change the direction of the recruitment industry. The market was transaction-led, which resulted in a potential employer using the services of a variety of recruitment companies to fill vacancies within the different departments of their organisation.

This woman thought that employers would prefer to use one main supplier to manage the supply chain. For example, a leading technology company was using the services of 50 different suppliers with 50 different processes that required a large in-house HR department to manage. The idea was that this company, and all companies, should focus on their core business and let a recruitment firm centralise the entire supply process.

The passion of this individual was overwhelming, so I listened, supported her idea and encouraged her to set up a new division. By using expertise and technology to apply the necessary efficiencies to develop an attractive proposition, we got the technology firm using Alexander Mann for all its recruitment needs - a move that also had a huge impact on our competition. This division is generating revenues in excess of £380m today. It is a great example of the effectiveness of encouraging intrapreneurship rather than entrepreneurship in your organisation. If I hadn't, the very idea would certainly have precipitated an important competitor, instead of an asset.

As well as getting good value from employees it is equally important to value them and create an environment that nurtures camaraderie. This is best achieved by having fun together. At Alexander Mann I started the AM Sound Band and justified my belief that in any organisation with hundreds of people, finding four with karaoke fever, drum or guitar yearnings, is not too far a stretch. The AM Sound Band subsequently played at our conferences and fostered a sense of belonging, company-wide.

It was a huge success, in no small part thanks to one band member who was adept at changing the words to well- known songs. Imagine the impact at a sales meeting when the lyrics to Queen's Bohemian Rhapsody, "Mama, I've just killed a man" is replaced by "Jimmy, I've just placed a man." It was highly appropriate and had the audience in fits of laughter. No amount of money can buy that sense of team spirit. With a little research, similar opportunities will present themselves in most organisations and the team will grow from the experience.