80 Great Portland Street
London W1W 7NW
T +44 (0)20 7907 2800
F +44 (0)20 7907 2801
www.jla.co.uk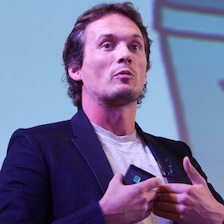 SPEECH TITLES
An Innocent story
61/2 rules of success
Keeping to core beliefs

Richard Reed
THE INNOCENT RULES
JLA: How is Innocent feeling about 2010?
RR: We've gone from drinking Kool Aid to getting our mojo back. In fact we're thriving - and benefiting from a raft of international expansion after doing an investment deal with Coke.

JLA: Have you learned anything new from the recession?
RR: After nine years of extreme growth we saw decline, losses and redundancies in 2008. We learned a lot, and learned it the hard way. But now we're leaner and more focused - so ultimately it's been good for us.

JLA: How can SMEs compete with multinationals in this climate?
RR: The only way you beat your competition is by doing a better job than they do at looking after consumers. Fortunately that's as possible now as it's ever been.

JLA: How can any business rebuild confidence?
RR: With confession, sincerity, vision and passion

JLA: How do you catch or stay ahead of competition in a flat market?
RR: Invest in nourishing the relationship between your brand and your consumer - it's where the real value in any business lies.

JLA: Which sectors or business models are most likely to thrive?
RR: Those that sell experiences and entertainment rather than things - we've all got enough stuff.

JLA: Is 'make do and mend' here to stay? No more rampant consumerism?
RR: Hopefully people are increasingly valuing experiences above items, which is good for the soul if not the economy.

THE INNOCENT RULES

Keep the main thing the main thing:
The name Innocent reflects the intention to make a 100% natural product. You need to keep to core beliefs and be able to communicate them in one sentence.

Care:
Or at least have a motivation beyond the cash.

It's about people:
Innocent has devised numerous ways to incentivise staff other than money - including group exercise sessions.

Worry about the reality, not the image:
If you create a good reality, you'll acquire a good image. If you maintain the integrity of the company you'll achieve success.

Take care of the details:
In a homogenised marketplace where everything looks the same it's the small things that make a difference. Innocent have taken to putting jokes on bottle labels.

Open up and listen up
The more you invite criticism, the less you will lose sight of the main objectives.
© Copyright JLA: All Rights Reserved