80 Great Portland Street
London W1W 7NW
T +44 (0)20 7907 2800
F +44 (0)20 7907 2801
www.jla.co.uk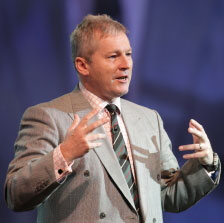 SPEECH TITLES
Lessons of leadership
Leading in unchartered territory
Leveraging scale

Colonel Tim Collins OBE
Q&A
JLA: In practical terms, what can a sales manager learn from you?
TC: How to maintain focus when things are not perfect. Management in adversity was a path I had to walk. Through careful study of those before me, I was able to lead my battlegroup in the face of bitter adversity. Together we succeeded in achieving and exceeding the goals set for us.

JLA: What are the parallels between business and the military?
TC: In both, leadership is the key. It is about engendering belonging, commitment and purpose. Above all, leadership is about communicating the goals, not the methods, in the same way salesmanship is about promoting the benefits of a product and not the features.




© Copyright JLA: All Rights Reserved