80 Great Portland Street
London W1W 7NW
T +44 (0)20 7907 2800
F +44 (0)20 7907 2801
www.jla.co.uk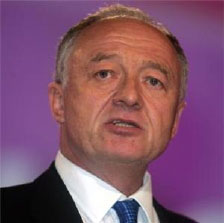 SPEECH TITLES
Accountable leadership
Leaving a legacy
Driving change
Public / private partnership
Ken Livingstone
Q&A (WITH DAVID DAVIS)
JLA: Where should public spending cuts be made?
Ken: Let's have no more nuclear weapons and cut the military budget to the European average - and stop popping all over the world invading countries.

David: I agree we shouldn't upgrade Trident, but it would be immoral to cut back on the resources we give our soldiers. The other thing I would cut is middle class welfare. It's perverse to give well off people the state's money - give them lower taxes, not welfare.

JLA: Are we returning to a clear ideological divide between the two main parties?
David: There are differences in ideas and ideals. The Tories would like to cut taxes and bring down spending (not an instinct of the Labour party) - but the walls limiting what government can do will make it difficult to differentiate.

Ken: I loathe the crap about elections and politics being about whether or not you like someone. I disagree with almost everything she did, but Thatcher wrenched the whole debate in the direction she wanted because she believed in something and was prepared to lose rather than betray her principles. Politics is not about electing nice people, it's about making decisions.

JLA: Is the recession being used as an excuse to reduce the size of the state?
David: As it stands the state is clumsy and doesn't respond well to its client base (- in business if you don't respond to customers you go bankrupt). I support the NHS but I don't understand how we've doubled the budget and not received double the service. We have to do something about the natural tendency of the state to spend our money without delivering an improved outcome.

Ken: When I became Mayor I was able to act quickly because Blair created an executive post. Cabinet Ministers should have the same power to hire and fire as far down the layers as necessary. There are some smart people in government departments but it's a wholly risk-averse, inward-looking bureaucracy.

JLA: Do we now have an opportunity for real change?
David: Almost everyone is in favour of an austerity approach, but they won't like it when it addresses itself to them. The question is, will the government be able to hold the line and use the crisis to mould a more responsive, effective state.

Ken: At a time of crisis you get the chance to set the agenda for a generation ahead. This is a definite opportunity to remake the entire political and social structure of the country.

© Copyright JLA: All Rights Reserved