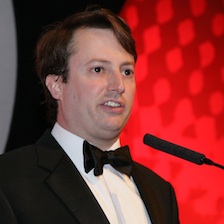 "He was great!"
Golden Joystick Awards
WIKIPEDIA
BIOGRAPHY
David Mitchell is best known as one half of comedy partnership, Mitchell and Webb. The pair met at Cambridge, where Mitchell was president of the Cambridge Footlights. They have since written and starred in several sketch shows for radio and television; The Mitchell & Webb Situation, That Mitchell & Webb Sound and That Mitchell & Webb Look. Together, they are perhaps most famous for the Channel 4 sitcom, Peep Show, and both appeared in the film Magicians. Mitchell played the more traditional magician Harry.
On his own, Mitchell has a regular column in The Observer, and takes a satirical look at the news on 10 O'Clock Live. He has had parts in BBC's Jam & Jerusalem and the ShakespeaRe-told adaptation of The Taming of the Shrew. He is a frequent participant on British panel shows, including QI, Mock the Week and Have I Got News For You. He is host of The Unbelievable Truth.
The Radio Times named him 'The Best Comedy Panel Show Guest' in the world, stating that 'he's incredibly, disgustingly witty' and 'even starting to make Paul Merton look slow on the uptake'. He cites Spike Milligan, Peter Sellers and Peter Cook as his comedy idols.
Print
© Copyright JLA: All Rights Reserved
PRESENTERS
£10K TO £25K
YOU MAY ALSO BE INTERESTED IN...
THE CLIENT'S VIEW

by Caroline Jackson / CMP
Whatever your budget, invest the most you can in your host: I've never seen a poorly hosted event compensated for by the exquisite flavour of the soufflé.

/> Finding the right one requires skills and understanding about what makes each of our audiences tick. An honest agency will tell you the pros and cons of your choice. And you can strike lucky and get someone up and coming, before they become household names and price themselves out of your league.

When you find someone who is clearly on their way to the top, you feel as if you've helped the audience discover a talent - and that feels great.

Print
ALSO SEE OUR...