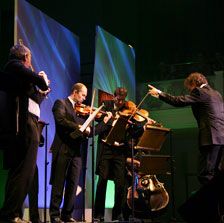 CONFERENCE SPEAKERS
ENTERTAINMENT
£2.5K TO £5K
RAINER HERSCH & ORCHESTRA
NEMO Ltd 22 Jun 2009
Rainer,
Standing ovations are something that our Nemo conference only gives once ever few years but the one received on Saturday night, couldn't have been more deserving to you & your orchestra. We had a wide age group to please & undoubtedly your brand/style of entertainment engages with your audience to ensure everyone goes away feeling good.

Congratulations & very much appreciated
Entertainment Feedback
Last comment
Debbie, Reed Business Information Ltd 7 May 2009
Rainer was the best entertainment yet – it was a pity that the stage was too small for him.
Entertainment Feedback
Back to top
LEAVE FEEDBACK
Only fields marked(*) will be published publicly
SEARCH FEEDBACK
SEARCH FEEDBACK BY NAME
Should you wish to leave feedback for someone not listed on the site, please contact us.
The views expressed are those of the individual and do not necessarily reflect the view of JLA.