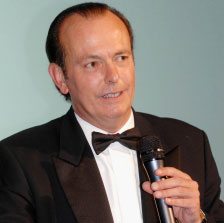 CONFERENCE SPEAKERS
AFTER DINNER SPEAKERS
£2.5K TO £5K
PRESENTERS
£2.5K TO £5K
QUENTIN WILLSON
Lisa, TPN 23 May 2013
Quentin was an absolute star and hugely pleasant to work with. He was engaging with us at dinner and with the difficult audience, he had them in the palm of his hand. I would recommend him for any event that requires an articulate, pleasent and hugely professional gentlemen.
Presenters Feedback
KTS Events 18 Mar 2013
Quentin did perfectly. He did everything that was asked of him even hiding from our guests in some vans during a valuing session!

Most importantly, the audience loved him. He mingled with the guests during the evening dinner and enjoyed some drinks with them too.
Presenters Feedback
Environment Media Group Ltd 19 Oct 2009
How well did Quentin meet your objectives?

Quentin met the objectives perfectly. He listened to our brief and took an interest n what it was all about. As a result he was relevant to the audience and understood what they wanted. An absolute pleasure to work with.

How would you describe the audience reaction?

The audience was very much entertained by Quentin - he was topical and related to the sector in a most sincere manner. He was very witty and the room responded well. Without a doubt the right choice for us.
Presenters Feedback
Last comment
Laura, Binley's 27 Nov 2008
Quentin did very well - very professional, read the script beautifully, and received lots of applause.
Presenters Feedback
Back to top
LEAVE FEEDBACK
Only fields marked(*) will be published publicly
SEARCH FEEDBACK
SEARCH FEEDBACK BY NAME
Should you wish to leave feedback for someone not listed on the site, please contact us.
The views expressed are those of the individual and do not necessarily reflect the view of JLA.