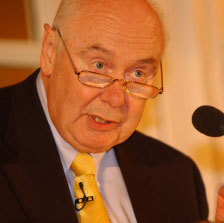 PRESENTERS
£2.5K TO £5K
PETER HOBDAY
The General Medical Council 22 Jun 2009
Peter had some good suggestions before the event and pitched it at just the right level on the day. 'A great compere', to quote one delegate.
Presenters Feedback
Business In The Community 6 May 2009
Peter was absolutely wonderful, he was the perfect steady pair of hands on the whole event. He kept us calm in a crisis, was the perfect timekeeper and had everyone joining in with the Question Time. He even managed to get the whole conference to finish with the star speaker explaining that 'working on climate change should be fun' which was a wonderful, upbeat way to end the day. I've had dozens of people commenting on how wonderful he was and several people have named him a 'national treasure'…
Presenters Feedback
PWC 30 Oct 2008
"We were all impressed by Peter's dexterity in controlling the discussion"
Presenters Feedback
RBS 30 Oct 2008
"He was great, the sessions were well conducted and Peter was very good with keeping time."
Presenters Feedback
Last comment
Ashburton Investment 30 Oct 2008
"Jersey is a buzz with praise, enthusiasm and almost every other adjective you care to name about Peter Hobday."
Presenters Feedback
Back to top
LEAVE FEEDBACK
Only fields marked(*) will be published publicly
SEARCH FEEDBACK
SEARCH FEEDBACK BY NAME
Should you wish to leave feedback for someone not listed on the site, please contact us.
The views expressed are those of the individual and do not necessarily reflect the view of JLA.