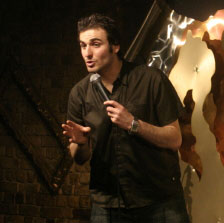 PRESENTERS
£2.5K TO £5K
ENTERTAINMENT
£2.5K TO £5K
PATRICK MONAHAN
National Housing Federation 22 Mar 2013
Excellently, he kept the audience engaged and delivered the awards very well. He spent time with us over dinner finding out about the industry and meeting our chief executive and using this material in his set. He also maintained his professionalism during the awards but made it his own rather than just reading the script. Patrick was an absolute pleasure to work with and I would certainly recommend him and consider suing him again.
Presenters Feedback
Lynda, Newsco 3 Aug 2011
Patrick was fantastic. He sat down for dinner and really joined in. The audience thought he was fantastic.
Entertainment Feedback
CONCH Awards 19 Oct 2010
I loved Patrick and thought he did an amazing job with a very difficult audience in a tricky venue! - He was brilliant and was a pleasure working with him - a few people on the night asked who I booked him through!
Presenters Feedback
Jessica, Quantum Leap Events 17 Jun 2010
Patrick read the room very well. Everyone loved him.
Entertainment Feedback
Last comment
Hazel, William Reed Business Media 6 Nov 2008
I used Patrick for an internal sales confrence and he was one of the funniest comedians that I have ever had. However he interacts with the audience ALOT and picks on them - therefore if you don't want this to happen don't use him. Otherwise brilliant and a nice guy too.
Entertainment Feedback
Back to top
LEAVE FEEDBACK
Only fields marked(*) will be published publicly
SEARCH FEEDBACK
SEARCH FEEDBACK BY NAME
Should you wish to leave feedback for someone not listed on the site, please contact us.
The views expressed are those of the individual and do not necessarily reflect the view of JLA.