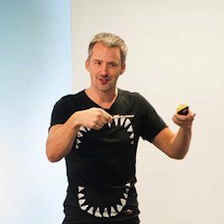 CONFERENCE SPEAKERS
£2.5K TO £5K
MAX MCKEOWN
Melanie, FCO Services 24 Oct 2011
Max's presentation covered all of the areas that we discussed beforehand. he also spent a bit of time prior to the session getting to know what we were doing as a business which he then integrated into his presentation.
The audience really warmed to Max and interacted well with him. He has managed to generate a lot of discussion around the business and all the feedback that I have had has been extremely positive.
Conference Speakers Feedback
NG Bailey 14 May 2009
Max held the audience's attention for the duration of his presentation, he did get the audience participating and he got his messages across in a very simple way that the varied audience could relate too. Max's use of every day examples and known brands helped to demonstrate his thought process and gave the audience an insight into thinking differently.Max left the audience feeling on a high at the end of the 2-day conference and to consolidate the key messages that were being delivered to the audience – messages of teamwork and business success.
Conference Speakers Feedback
Last comment
Vodafone 31 Oct 2008
"Excellent, Max McKeown was spot on."
Conference Speakers Feedback
Back to top
LEAVE FEEDBACK
Only fields marked(*) will be published publicly
SEARCH FEEDBACK
SEARCH FEEDBACK BY NAME
Should you wish to leave feedback for someone not listed on the site, please contact us.
The views expressed are those of the individual and do not necessarily reflect the view of JLA.