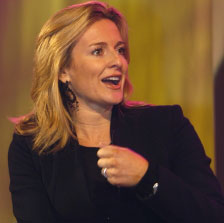 AFTER DINNER SPEAKERS
£5K TO £10K
PRESENTERS
£5K TO £10K
GABBY LOGAN
Stephen, Skills Active 25 Mar 2009
Gabby was ideal for our need – hosting of a day, words of inspiration for young athletes, her personal perspective on the current sporting landscape, media interviews and photo calls.
Presenters Feedback
Last comment
Darrell, IoD North West 5 Mar 2009
She understood the brief and read the audience beautifully.
Presenters Feedback
Back to top
LEAVE FEEDBACK
Only fields marked(*) will be published publicly
SEARCH FEEDBACK
SEARCH FEEDBACK BY NAME
Should you wish to leave feedback for someone not listed on the site, please contact us.
The views expressed are those of the individual and do not necessarily reflect the view of JLA.