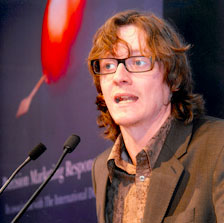 PRESENTERS
£5K TO £10K
ENTERTAINMENT
£5K TO £10K
ED BYRNE
Jersey Funds Association 21 Mar 2013
Some are saying this was the best JFA event so far. Ed was very easy to work with and quite happy to go with whatever we wanted which is great from an event organisers point of view as it makes the evening a whole lot easier.
Entertainment Feedback
Ed, PAM Insight Ltd 13 Mar 2013
Ed excelled himself. He had the 430 guests in stitches and capped a super evening.

His references/experiences to TRAVEL were excellent. His male/female references to marriage good, but could have made a very few uneasy. Rest of his patter and run through the Awards categories were great. As Jeremy said ' A safe pair of hands'.

Very easy to get on with.
Presenters Feedback
AbbVie 7 Feb 2013
Ed exceeded expectations. He was very relaxed and easy to work with, and offered helpful input to the awards presenters. The audience was engaged, entertained, energised. I personally was so impressed that I booked tickets for Ed's Tour later this year.
Presenters Feedback
Alison, Venture Marketing Group Ltd 7 May 2009
Excellent – Ed was very easy to work with on the night, was flexible when we were running late, and also handled both the comedy and awards presentation elements of the event very well. He held the attention of the audience well, and the overall feedback from them was that it was perhaps the best we'd had over the various years. I was also very pleased that Ed stayed on for a few drinks after the ceremony and mingled with the guests; the audience very much appreciates that.
Presenters Feedback
Sacha, Chiswick Park Ltd 7 May 2009
Everyone had a great time. Ed was worried that his humour got too dark, but the audience didn't seem to think so and they loved him. He interacted with them and they loved that.
Entertainment Feedback
Jump to feedback form | Back to top
Rachel, Centaur Events 21 Nov 2008
Ed was absolutely fantastic both in his stand-up comedy and as he presented the awards. An added bonus was that he was very easy to work with. Andrew, thanks for your help both in suggesting Ed and also on all the follow-up!
Presenters Feedback
Andy, Powerhouse Productions Ltd 4 Nov 2008
fantastic- Ed got it absolutely spot on. Everyone was tiptoing around a very senior Exec in the audience, but Ed got him laughing from first to last.
Entertainment Feedback
Last comment
Employee Benefits Awards 31 Oct 2008
"Extremely funny, gauged audience very well, and worked through the awards rather than just reading the script. A delight to work with."
Presenters Feedback
Back to top
LEAVE FEEDBACK
Only fields marked(*) will be published publicly
SEARCH FEEDBACK
SEARCH FEEDBACK BY NAME
Should you wish to leave feedback for someone not listed on the site, please contact us.
The views expressed are those of the individual and do not necessarily reflect the view of JLA.