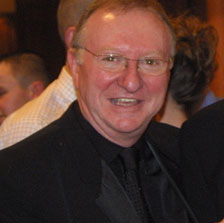 AFTER DINNER SPEAKERS
£2.5K TO £5K
DENNIS TAYLOR
Sharps Bedrooms Ltd 14 Dec 2012
It went extremely well. What a delightful man Dennis is. He was both entertaining and motivational in his speech which was exactly what we wanted.
After Dinner Speakers Feedback
Last comment
Henri, Avnet 12 Aug 2011
I just wanted to let you know that Dennis was absolutely fantastic on Friday.

Everyone thoroughly enjoyed his speech (he was very entertaining).

What a lovely chap he is, and so kind with his time, signing autographs and having pictures taken after he'd finished! Please pass on my thanks to him.

I'd highly recommend him to anyone!
After Dinner Speakers Feedback
Back to top
LEAVE FEEDBACK
Only fields marked(*) will be published publicly
SEARCH FEEDBACK
SEARCH FEEDBACK BY NAME
Should you wish to leave feedback for someone not listed on the site, please contact us.
The views expressed are those of the individual and do not necessarily reflect the view of JLA.