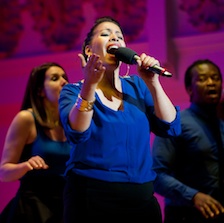 ENTERTAINMENT
£2.5K TO £5K
CK GOSPEL CHOIR
Last comment
Banks Sadler 23 May 2012
Had an entertaining night at our Gala Dinner as the hotel had a full fire evacuation about 9:30pm, just before the choir's 2nd set. All 700 delegates outside in the rain for 25 mins!

But the response from the choir when we came back inside was simply fantastic. They got onstage straight away (towels in hand) and just had the most fantastic high energy that really lifted everyone back into a party atmosphere. I understand that the client and their guests were partying until 4am – and I believe that a significant reason for that is because the CK team raised the roof after our evacuation.
Entertainment Feedback
Back to top
LEAVE FEEDBACK
Only fields marked(*) will be published publicly
SEARCH FEEDBACK
SEARCH FEEDBACK BY NAME
Should you wish to leave feedback for someone not listed on the site, please contact us.
The views expressed are those of the individual and do not necessarily reflect the view of JLA.