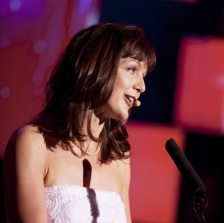 CONFERENCE SPEAKERS
£1K TO £2.5K
PRESENTERS
£1K TO £2.5K
ANGELA LAMONT
Foreningen Technoport 23 May 2012
Does a great job, She shows an excellent understanding of the purpose of the event and all the stake holders needs to the event. She masters the balance between the solemnity of the event and the warmth and wittiness needed to enjoy a 2 hour(!) award show.
Presenters Feedback
Alex, Guardian News And Media 26 May 2011
Angela put together a really good intro about the sustainable business industry that was pitched just right. She was a true professional and a pleasure to work with. We've had lots of positive comments following the ceremony about what a good job she'd done.
Presenters Feedback
Corey, InVision Communications 2 Feb 2011
Angela was inventive and imaginative with the given material. Her segment was very short and consisted of mostly an interaction with an executive, and remotely from the lobby at that, but the bit went over very well. I can say my clients were very pleased with her performance.
Presenters Feedback
Sue, UCISA 3 Dec 2010
Angela was very well received by the delegates and, from our point of view, a pleasure to work with.

I will forward individual comments picked up from our survey analysis shortly.
Presenters Feedback
Diana, Chemical Industries Association 30 Jun 2010
I can recommend Angela highly. She really made our awards this year as she is highly professional, intelligent and personable. We will certainly be looking for other opportunites to use her for future events.
Presenters Feedback
Jump to feedback form | Back to top
Last comment
Kate, Bizmedia 8 May 2009
Extremely good. Angela took time to research the audience and event and asking for guidance when required.
Presenters Feedback
Back to top
LEAVE FEEDBACK
Only fields marked(*) will be published publicly
SEARCH FEEDBACK
SEARCH FEEDBACK BY NAME
Should you wish to leave feedback for someone not listed on the site, please contact us.
The views expressed are those of the individual and do not necessarily reflect the view of JLA.