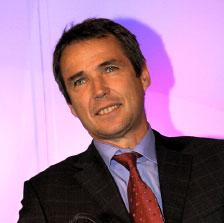 AFTER DINNER SPEAKERS
£10K TO £25K
PRESENTERS
£10K TO £25K
ALAN HANSEN
Sandy, Supreme Imports 14 Nov 2008
Alan gave an entertaining run down of his career in football and gave some good insight into the current state of the game. THe football fans in the crowd were amazed and delighted to see him stepping onto the stage.
After Dinner Speakers Feedback
Last comment
Caroline, Diageo 10 Nov 2008
Love football, you'll love Alan Hansen - better as an after dinner speaker than an inspirational conference presenter.
After Dinner Speakers Feedback
Back to top
LEAVE FEEDBACK
Only fields marked(*) will be published publicly
SEARCH FEEDBACK
SEARCH FEEDBACK BY NAME
Should you wish to leave feedback for someone not listed on the site, please contact us.
The views expressed are those of the individual and do not necessarily reflect the view of JLA.