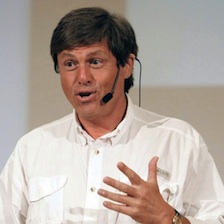 EXTERNAL LINKS
JLA is not responsible for the content of external websites.
WIKIPEDIA
BIOGRAPHY
Ulrich Walter is one of few Europeans to have experienced space travel. Living the dream of many scientists and adventurers, he spent ten days as a payload specialist on the shuttle Columbia and the European Spacelab station.
After his academic work in America on 'tunnelling microscopy,' Walter was chosen from 1,799 applicants to train at the German Aerospace Centre and then at NASA headquarters.
Walter's speeches cover all aspects of the flight. As well as extraordinary images of orbiting the earth, he shows life on board the shuttle, the preparation and discipline necessary to take part, and the considerable medical and psychological strains.
He also provides a glimpse into the infinite possibilities of space. In his new role as Professor of Spacefare Technology, and host of popular TV science shows, Ulrich is well placed to assess the value of exploration - and the possibility of extra-terrestrial intelligence.
Print
© Copyright JLA: All Rights Reserved
TOPICS
Peak Performance, Science, Health & Medicine
SPEECH TITLES
90 minutes around the Earth
Is there life out there?
FEE BANDS
CONFERENCE SPEAKERS
£5K TO £10K
AFTER DINNER SPEAKERS
£5K TO £10K
PRESENTERS
£5K TO £10K
YOU MAY ALSO BE INTERESTED IN...