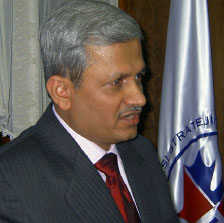 BIOGRAPHY
Based in Mumbai, Sundeep Waslekar understands both the opportunities and risks of globalisation. As President of the Strategic Foresight Group, he is emerging as one of the world's leading thinkers in geopolitical futures.
While at the Centre for Policy Research, Sundeep earned a reputation for introducing fresh thinking on trade, peace and governance in South Asia. He is highly respected for his multi-disciplinary 5-15 year perspectives on the future of the region.
Sundeep has served as a Fellow of the World Economic Forum, addressing annual meetings at Davos and regional summits in Asia. His most recent efforts are to bring Western and Islamic leaders together to find common ground in times of crisis.
Print
© Copyright JLA: All Rights Reserved
TOPICS
The Political Landscape, Risk
SPEECH TITLES
Impact on business of West-Islam relations
FEE BANDS
CONFERENCE SPEAKERS
£5K TO £10K
YOU MAY ALSO BE INTERESTED IN...
THE CLIENT'S VIEW

by The Home Office
Our speakers must be high profile, inspirational and well respected in their field. They should be able to contribute to the event by sharing their wealth of experience with humour and an engaging personality. They should be entertaining and thought provoking. The value in guest speakers is evidenced by the interest and positive feedback generated by those attending.
Print
ALSO SEE OUR...