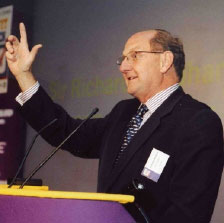 "Richard was hugely entertaining, an excellent raconteur with useful business insights."
ICBI
EXTERNAL LINKS
JLA is not responsible for the content of external websites.
WIKIPEDIA
BIOGRAPHY
As Senior Independent Director of Dyson, Sir Richard was responsible for developing the company's manufacturing and sales operations in Europe, the US and the Far East.
Richard originally served as a Conservative MP and Trade Minister. He is widely credited for reinvigorating UK exports, and for regenerating Northern Ireland's infrastructure and economic base. He took huge risks by insisting that Belfast's bomb-damaged city centre be reconstructed in glass and steel, to show confidence in the future.
Since leaving politics Richard has worked as Chairman, Director or advisor to twenty firms - from start-ups like Imperial College's DeltaDot (inventor of the world's most advanced DNA sequencer) to global giants like GEC. During his time on the Board of Avon Rubber he saw share-price increase more than ten-fold, and he now chairs Seamwell, a company developing underground coal gasification in Mongolia.
Heading-up Dyson's move into China, Richard has developed contacts at the highest reaches of Government and at local Party Secretary level. He understands the pitfalls and the need to enter the market at the right level, in the right place and with the right partners.
Richard's presentations set out the measures necessary for any organisation to secure its future. Delivered with trademark gusto and a sharp wit, his message is clear: keep innovating, look after suppliers, maintain margins, refuse to allow passengers, stress test your strategy, train those it most benefits and work out what customers are thinking - not what you want them to think.
Print
© Copyright JLA: All Rights Reserved
TOPICS
Manufacturing & Engineering, The Political Landscape, Emerging Markets (BRIC+), Change Management, Mergers & Acquisitions, Overcoming Adversity, Risk, Transformational Leadership, Corporate Turnaround, Business Strategy
SPEECH TITLES
Building a strong community
Risk-taking
Maintaining innovation
Competing against the downturn
FEE BANDS
CONFERENCE SPEAKERS
£2.5K TO £5K
AFTER DINNER SPEAKERS
£2.5K TO £5K
YOU MAY ALSO BE INTERESTED IN...
MEMBERS' INTERESTS
When he was 21, Gordon Brown won a Daily Express competition for 'A Vision of Britain in the Year 2000.' One of his first acts in office was to insist that the font for No.10 e-mails be changed from Times New Roman 12 to Arial 14.

Carlsberg Special Brew was created especially for Winston Churchill, as Denmark's thank-you for Britain's help during World War II.

The door to 10 Downing Street has no keyhole. It can only be opened from the inside.

In a study of common characteristics among Prime Ministers, Lucille Iremonger identified a childhood deprived of affection; extreme self-discipline; religious zeal; aggression, timidity and over dependence on the love of others.

The language used in the Chamber must conform to a number of rules. Past and present House of Commons Speakers have taken exception to: blackguard, coward, git, guttersnipe, hooligan, rat, swine, stool pigeon, traitor and fuck.

Briefcases are not allowed in the Chamber. The reading of newspapers, magazines and letters is also prohibited. Eating and drinking (except for discreet sips to ease the voice) is not permitted, in contrast to previous centuries when visitors observed Members sucking oranges and cracking nuts.

The police shout "Who goes home?" when the House rises. This is an invitation to Members to join together in bands to cross what were the dangerous fields between Westminster and the City, or to hire boats homeward on the Thames.

A Member wishing to raise a point of order during a division was, until 1998, required to speak with his hat on. Collapsible top hats were kept for the purpose. Snuff is still provided, at public expense, at the doorkeeper's box at the entrance to the Chamber.

Print
ALSO SEE OUR...