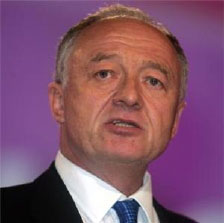 "Ken Livingstone delivered a very articulate, informative and amusing speech that fitted in perfectly with our overall message."

IMServ
EXTERNAL LINKS
JLA is not responsible for the content of external websites.
WIKIPEDIA
BIOGRAPHY
Ken Livingstone served for eight years as the first Mayor of London before defeat to a resurgent Tory party in the irrepressible shape of Boris Johnson. A hard-fought contest to regain his place in City Hall four years later ended again in disappointment.
Inexorably linked to London politics, Ken started his career at Lambeth Council. He soon rose through local government ranks to become Leader of the GLC, acquiring considerable notoriety for his left-wing activism on the way, before the institution was abolished by Margaret Thatcher. He then served as MP for Brent East.
A thorn in the side of both Labour and Conservatives over the years, when Ken failed to secure Labour's nomination in the first mayoral election, he stood as an independent candidate and trounced both Frank Dobson and Steve Norris. He was eventually welcomed back into the Labour fold, and went on to fight and win a second four-year term. During his tenure Ken most notably helped London win the right to host the Olympic Games and introduced the congestion charge. After his second, narrow defeat by Boris, Ken announced his intention to retire from the political frontline.
Frequently controversial but rarely boring, Ken has starred on Have I Got News For You on six occasions, and made a guest appearance on a Blur album. He was once a restaurant critic for the London Evening Standard, and is the proud author of If Voting Changed Anything, They'd Abolish It. Since leaving the London Assembly Ken has written his memoirs and is an occasional host on LBC forming an unlikely partnership with former Conservative cabinet minister David Mellor. He's also maintained links with the many charities, pressure groups and local organisations he has supported for many years.
Print
© Copyright JLA: All Rights Reserved
TOPICS
Change Management, Diversity, The Political Landscape, Social Responsibility, Transformational Leadership, Energy & Sustainability
SPEECH TITLES
Accountable leadership
Leaving a legacy
Driving change
Public / private partnership
FEE BANDS
CONFERENCE SPEAKERS
£5K TO £10K
AFTER DINNER SPEAKERS
£5K TO £10K
YOU MAY ALSO BE INTERESTED IN...
Q&A (WITH DAVID DAVIS)
JLA: Where should public spending cuts be made?
Ken: Let's have no more nuclear weapons and cut the military budget to the European average - and stop popping all over the world invading countries.

David: I agree we shouldn't upgrade Trident, but it would be immoral to cut back on the resources we give our soldiers. The other thing I would cut is middle class welfare. It's perverse to give well off people the state's money - give them lower taxes, not welfare.

JLA: Are we returning to a clear ideological divide between the two main parties?
David: There are differences in ideas and ideals. The Tories would like to cut taxes and bring down spending (not an instinct of the Labour party) - but the walls limiting what government can do will make it difficult to differentiate.

Ken: I loathe the crap about elections and politics being about whether or not you like someone. I disagree with almost everything she did, but Thatcher wrenched the whole debate in the direction she wanted because she believed in something and was prepared to lose rather than betray her principles. Politics is not about electing nice people, it's about making decisions.

JLA: Is the recession being used as an excuse to reduce the size of the state?
David: As it stands the state is clumsy and doesn't respond well to its client base (- in business if you don't respond to customers you go bankrupt). I support the NHS but I don't understand how we've doubled the budget and not received double the service. We have to do something about the natural tendency of the state to spend our money without delivering an improved outcome.

Ken: When I became Mayor I was able to act quickly because Blair created an executive post. Cabinet Ministers should have the same power to hire and fire as far down the layers as necessary. There are some smart people in government departments but it's a wholly risk-averse, inward-looking bureaucracy.

JLA: Do we now have an opportunity for real change?
David: Almost everyone is in favour of an austerity approach, but they won't like it when it addresses itself to them. The question is, will the government be able to hold the line and use the crisis to mould a more responsive, effective state.

Ken: At a time of crisis you get the chance to set the agenda for a generation ahead. This is a definite opportunity to remake the entire political and social structure of the country.

Print
ALSO SEE OUR...