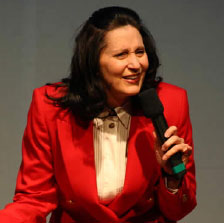 EXTERNAL LINKS
JLA is not responsible for the content of external websites.
WIKIPEDIA
BIOGRAPHY
Kathy Buckley was born with a hearing loss that went undetected until she was eight. Those around her believed she had learning difficulties and transferred her to a school or mentally and physically impaired children. She was sexually abused, run over by a jeep and stricken with cancer - all before the age of thirty.
But rather than be consumed by grief, Kathy sought out laughter. She not only survived, she has gone on to become a successful comedienne and an award winning author. She is also a world-renowned motivational speaker.
Kathy shows that we create our own negativity. With very funny anecdotes, she explains how our choice of vocabulary makes a real difference, how to choose the positive and how we all grow in confidence once we recognise the importance of our own individual contribution.
Based in California but with a message that resonates with the most cynical British audiences, Kathy's indomitable courage in confronting life's challenges inspires anyone and everyone.
Print
© Copyright JLA: All Rights Reserved
TOPICS
Overcoming Adversity, Diversity
SPEECH TITLES
Choosing the positive
Overcoming obstacles

FEE BANDS
CONFERENCE SPEAKERS
£10K TO £25K
AFTER DINNER SPEAKERS
£10K TO £25K
YOU MAY ALSO BE INTERESTED IN...