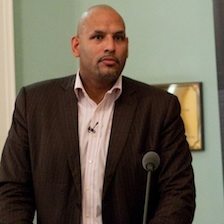 "John has a great story. His talk stimulated lots of discussion and was clear and inspirational."
Deutsche Bank
EXTERNAL LINKS
JLA is not responsible for the content of external websites.
WIKIPEDIA
BIOGRAPHY
John Amaechi is the first Briton to have enjoyed a successful career in the NBA. After a seven year contract with the most successful team in American sport, he was duly inducted into the US Basketball Hall of Fame.
John won widespread respect for his ability to overcome adversity, including life-threatening injury. He was described by one commentator as 'a player with little innate physical talent, who rose to remarkable heights on the back of terrific will and a tremendous strategy.'
Since retiring from basketball, John has pursued his PhD in psychology, co-authoring a paper on self-esteem and goal setting. He has also founded the ABC Foundation, which seeks to increase physical activity amongst youths and encourage community cohesion. The first sports centre has opened in Manchester and there are plans for six more around the country.
John understands motivation, personal development and the roots of success. His experience is immense and his formula applies to anyone - in any walk of life.
Print
© Copyright JLA: All Rights Reserved
TOPICS
Diversity, Overcoming Adversity, Social Responsibility, Peak Performance
SPEECH TITLES
Building Community: raising aspirations and reaching across divides in today's society
Achieving the Impossible Dream: How to beat the odds and rise above adversity
Organisational Harmony: Performance through Diversity
Inspirational Communication
FEE BANDS
CONFERENCE SPEAKERS
£5K TO £10K
PRESENTERS
£5K TO £10K
YOU MAY ALSO BE INTERESTED IN...
Q&A
Q: How can a business best rebuild confidence?
A:If people believe their company has a structure and strategy that will lead them forwards, they'll feel hopeful and confident. But just as Obama's followers are finding, hope alone is not enough.

Q: How do you get everyone to pull together?
A:It must be made clear to everyone throughout the entire organisation, especially those who aren't outward facing, that when they don't do their job overall performance drops.

Q: How do you get the best out of people?
A:Once we understand individuals' complexity and allow them to bring all their natural resources to the workplace, we start to get the most out of our human capital - when it's most needed.

Q: So it's not about conformity?
A: No. For example, any culture will contain a small percentage of innovators at every level who can enact massive change. These people make wonderful advocates; they need to be identified and empowered.


Extract from JLA Speakers Breakfast

Once we understand the complexity of people, and allow them to bring all their resources to the workplace, we have access to unique resources. At times like this, when competition is highest, this is how companies get the most out of their human capital.

People ask how to improve productivity without bonuses - you do it by creating a workplace your employees own a piece of emotionally and psychologically. This is how people make the difference between being first and being forgotten.

If people feel their company has a structure that will lead them forwards, they will feel hopeful and confident, but that message has to be tailored - it won't be the same for everybody. Know your people and what will work for them as individuals.

It's important to make it clear to the whole organisation - including those who are not outward facing - that when you don't do your job, our performance drops.

In any culture there will be a small percentage of innovators who can lead and enact massive change. Not just in the senior strata, throughout your company at every level you will find naturally wonderful advocates. By identifying and empowering those people - that's how you get an organisation to change.

Print
ALSO SEE OUR...