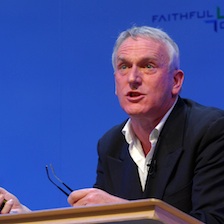 "James held everyone's attention and left the audience with lots to think about."
BT
EXTERNAL LINKS
JLA is not responsible for the content of external websites.
BIOGRAPHY
Aside from his many other roles, James Woudhuysen is Professor of Forecasting and Innovation at De Montfort University. And with a knack for registering trends well before others, he often offers counter-intuitive proposals on what actions to take.
James identified the user interface as the key issue in IT design back in 1981. He warned about a dotcom bust in 1999. He supported 3G mobile technology in the face of massive doubts in 2002, and he put the case for mass production methods for housing in 2004. The only things he will not forecast are the weather, the stock market and your own personal destiny.
Originally head of research at the design practice Fitch, James went on to lead IT consulting at The Henley Centre for Forecasting and to manage worldwide market intelligence for Philips consumer electronics. He broadcasts about the future of work and the environment, and sits on the editorial board of the Journal of Consumer Behaviour.
On the conference platform, James shows how future trends can inform decisions on strategy, research and development, innovation, marketing and design. With specialist international knowledge across IT, energy, the home and FMCG, his themes extend from product development and regulation to the need for organisations to learn to take risks.
He frequently challenges faddish, politically correct theories - contrasting the creative potential we all have with the deadening effect of conventional wisdom. And he offers a witty but deadly serious alternative to myths about almost everything.
Print
© Copyright JLA: All Rights Reserved
TOPICS
Manufacturing & Engineering, Digital & Online Business, Energy & Sustainability, Business Strategy
SPEECH TITLES
Thinking about the Future
Trends, Myths and Mass Innovation
The ABCs of Forecasting
The Future of Transport
The Future of Leisure and Play
The Future of Construction and Housing
FEE BANDS
CONFERENCE SPEAKERS
£2.5K TO £5K
AFTER DINNER SPEAKERS
£2.5K TO £5K
YOU MAY ALSO BE INTERESTED IN...
INNOVATION AND THE KNOWLEDGE ECONOMY

by James Woudhuysen
Today's fondness for networked ecosystems of innovation betrays an emphasis on wealth created not directly, but through factors external to the firm. The premises are that:
/>
The world has become a knowledge economy
The knowledge that counts is available, but just needs to be distributed, or networked, more sensibly

Yet people no more live in a knowledge or network economy than they live in consumer society. Knowledge is the basis for innovation, but the fact is that the world doesn't have enough of either. People never lived in the atomic age or the space age. They are not engaged in life after the oil crash, nor are they about to move into a hydrogen economy.

Open, networked ecosystems of innovation represent a disingenuous reading of the field through the spectacles of IT and of biology. There's no reason why technological and other kinds of innovation should resemble the flow of electrons around a physical grid, and no reasons why the conscious, human activity of innovation should emulate the unconscious, Darwinian world of random mutation and natural selection.

Analogies and metaphors are all very well. But only in today's dumbed-down society can they successfully pass as theories.

Print
ALSO SEE OUR...