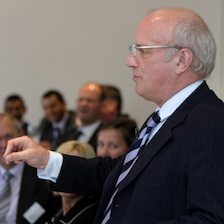 'Greg met our objectives 100%. The audience enjoyed his speech tremendously.'
Best Western & Consort Group
WIKIPEDIA
BIOGRAPHY
The former BBC Director General is Chairman of the FA, Executive Chairman of Ambassador Theatres Group and of the BFI. He previously chaired GMTV and served on the board of BSkyB, Pearson, Channel 4 and ITN. Greg also guided the creation of Channel 5, and built the largest production company outside America.
At the helm of the BBC, Greg reorganised the structure and reduced administration costs from 24% to 15% of total income. In the course of four years he started four digital TV channels, five new radio networks and helped create Freeview. He also demonstrated a commitment to cultural diversity, both in staff and output. His direct, down to earth, common sense management style has been widely praised and he was applauded for reinvigorating BBC morale and creativity.
In presentations Greg shares his insights as the entire media sector undergoes major shifts and struggles to adapt to a new competitive environment. He also reflects on the challenges facing any leader under intense pressure - and considers how you bring change to a monolith when it's become part of the fabric of national life.
Alongside his other roles, Greg Dyke serves as Chancellor of York University, non-Executive Director of Manchester United and non-Executive Chairman of Brentford Football Club.


Print
© Copyright JLA: All Rights Reserved
TOPICS
Change Management, Transformational Leadership, Business Strategy
SPEECH TITLES
Effective Change
Media, Society & Government
FEE BANDS
CONFERENCE SPEAKERS
£5K TO £10K
AFTER DINNER SPEAKERS
YOU MAY ALSO BE INTERESTED IN...