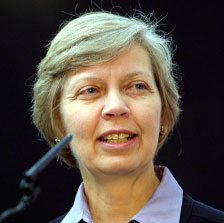 'Exactly what we were looking for'
Doughty Hanson and Co.
EXTERNAL LINKS
JLA is not responsible for the content of external websites.
WIKIPEDIA
BIOGRAPHY
DeAnne Julius served as an external member of the Monetary Policy Committee of the Bank of England, before taking at the helm of the highly regarded think tank Chatham House. A former Chief Economist at both British Airways and Shell, she has also chaired the Banking Services Consumer Codes Review for the Treasury.
DeAnne now has a wide variety of roles, including Vice Chair of the Institute of Development Studies and the Society of Business Economists. She also holds non-Executive positions at BP, Roche, and Jones Lang LaSalle.
Dr Julius is the author of several books and academic papers on subjects ranging from natural gas pricing to strategic planning, globalisation and corporate governance. She originally worked at the World Bank on energy and water projects in Asia and East Africa.
Print
© Copyright JLA: All Rights Reserved
SPEECH TITLES
Strategic Planning
Corporate Governance
FEE BANDS
CONFERENCE SPEAKERS
£10K TO £25K
YOU MAY ALSO BE INTERESTED IN...
Q & A
JLA: Do you see the G20 making progress on trade imbalances in 2011?
DJ: With the French combo of Sarkozy's energy and Christine LaGarde's expertise, 2011 could bring new momentum. The G20 look to make the international monetary system less dependent on the dollar. The Chinese are ready for their currency to play a bigger role in world trade. The Europeans are determined to shore up the euro. Americans may feel threatened, but with US fiscal and monetary policy the root cause of global imbalances, they have little credibility on the subject.

JLA: Will the BRICs continue to provide the engine for growth?
DJ: Yes, for 2 reasons. At least 3 of the BRICs (excluding Russia) plus 3 or 4 other big emerging economies are entering the most rapid growth phase of their S-curves, where increases in per capita income translate into an exploding middle class hungry for consumer goods of all kinds. Secondly, these countries have sound macro-economic policies with low budget deficits and high savings, making them well-placed to grow. Inflation may become a concern, but they have the tools to deal with it.

JLA: Do you see circumstances in which Euro membership might change?
DJ: The internal German debate over members' responsibilities is heated. It's unlikely Germany itself will decide to leave the Euro (as some advocate), but it is quite likely that reforms forced on others by Germany will create a different dynamic within the EU, with stronger restraints on others' economic policies. In extremis, domestic political pressures in crisis-torn countries could cause them to abandon the euro - though this may not be in their own best interests.

JLA: Are the right measures in place for the UK to rebalance its economy?
DJ: The UK economy is rebalancing towards exports and investment rather rapidly. The media and the political opposition are overly gloomy, scare-mongering about the impact that public spending cuts are likely to have on growth. The cuts are actually growth-enhancing by focussing more on entitlement programmes and less on public services. It is critical that Britain puts its public finances, in order to avoid the sort of bond market revolt that weak Eurozone countries have faced.

JLA: Will big business emerge stronger, leaner and more responsible?
DJ: The current de-leveraging period is tough on small businesses, but Britain's larger companies are well-capitalised and looking to grow. They implemented cost-saving measures early and have seen profits rebound as global demand has expanded, while the pound has come off its pre-recession heights.

February 2011
Print
ALSO SEE OUR...