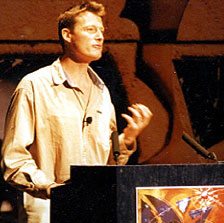 "The audience was spellbound."
IBM
EXTERNAL LINKS
JLA is not responsible for the content of external websites.
WIKIPEDIA
BIOGRAPHY
Benedict differs from most explorers in that he lives for months at a time with remote tribes, learning their survival techniques. He takes nothing into these communities - no equipment, maps or compasses - throwing himself on the mercy of the people he encounters. He has come close to death on many occasions.
The BBC series Skeleton Coast brought Benedict's adventures to a wide audience, documenting his experiences walking the diamond littered coast of Namibia. By the end he had walked 2,000 kilometres, with three very reluctant camels.
For the following series, Ice Dogs, Benedict had to earn the trust of his hardened ten-strong team of huskies. After getting separated in a blizzard, and without any form of communication or back-up, he only narrowly survived crossing the Bering Straits.
He has trekked from the remote wilds of Siberia, through the Mongolian steppe and Altai mountains, ending with a lone crossing of the Gobi desert. He's been hunted, shot at and left to stitch up his own chest. Benedict admits the challenges are more extreme than anything you'll find in the business jungle, but there are parallels: both are highly competitive, often confusing and sometimes frightening.
Benedict is also a successful author. His book Into the Abyss weaves his own experience with the likes of Columbus, Stanley and Livingstone.
In his gripping conference presentation and after dinner speech, Benedict demonstrates the qualities necessary to succeed and survive - including personal motivation, risk-taking and the ability to adapt to unfamiliar circumstances.
Print
© Copyright JLA: All Rights Reserved
TOPICS
Overcoming Adversity, Risk
SPEECH TITLES
On the edge of survival
Surviving the jungle
FEE BANDS
CONFERENCE SPEAKERS
£2.5K TO £5K
AFTER DINNER SPEAKERS
£2.5K TO £5K
YOU MAY ALSO BE INTERESTED IN...
Q&A
JLA: How do you motivate conference delegates who are under huge pressure?
BA: You have to be highly motivated to tackle the jungle, desert or Arctic alone. I motivate audiences by showing my passion for doing just that. And through vivid accounts of what it's like to somehow find hope when you have to crawl, day after day, out of what seems like certain death."

JLA: How can you ensure your conference message has a lasting impact?
BA: Particular images, like the crocodile initiation ceremony, stay in the mind (perhaps too much so!) - so I carefully link them to key messages.

JLA: You overcame adversity in extremis - is there really a corporate parallel?
BA: The jungle is a highly competitive, confusing and often frightening environment - that in many ways isn't so different from the workplace. The parallels are clear: immersed amongst confusing life-forms, you are never quite sure who is on your side, and what challenges and opportunities lie ahead of you. You have to be fit and ready, with a clear vision of your goal.
You soon understand that the jungle is too big to fight and you have to see it as a resource to be used. It's too powerful and complex to take on by yourself, so you have to work, as tribal people do, as a team - and yet be flexible enough at times to change strategy and go it alone. And it's no good sitting back and ignoring problems - that way you'll lose control of what you do have.

JLA: In practical terms, what can a manager learn from an explorer?
BA: Success for an explorer comes through having a clear objective, doing the right preparation and having belief - the necessary vision and desire to achieve. For both manager and explorer, it is about finding the necessary resources in yourself (and your team), and in the landscape around you - and being nimble, ready to seize opportunities as they appear.
You must be ready to adapt to changing circumstances. When things happen outside your control - like rain or drought in the case of the explorer, or market downturns for the manager - you must look to the opportunities you do have the power to exploit. This means tapping into the skill base of other people out in the jungle, or marketplace, who are facing exactly the same challenges.

JLA: Can fear be channelled in a positive direction?
BA: Although I'm referred to as 'TV's most fearless man', I see fear as important. It's your self-guard, your defence system telling you to watch out. The trick is to harness it. Without tackling the unknown or pushing your boundaries, you will never achieve anything special. In the end, being 'safe' doesn't help anyone achieve - it's demotivating and ultimately unrewarding.



JLA: How do you motivate others, with limited resources at your disposal?
BA: The key is to get everyone engaged in the daily and long terms goals of the organisation, encourage an environment in which they have to take (calculated) risks and take responsibility for gains and loses. My ambitions are not achieved without pain, without feelings nearing despair at times, but the end reward of succeeding despite the odds makes it all worthwhile.
Print
ALSO SEE OUR...