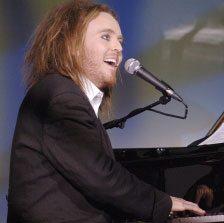 'Tim was fantastic. We really loved the special song he wrote for us!'
Barclays
WIKIPEDIA
BIOGRAPHY
A virtuoso Australian pianist with a rare talent for topical comedy, Tim Minchin scooped the Perrier Best Newcomer award at Edinburgh - and Best Alternative Act at the US Comedy Arts Festival.
Tim combines sharp observations, word play and general life-enhancing silliness with extraordinary musicianship. His songs cover the range of human experience up to and including the use of canvas shopping bags.
Tim's credits include Never Mind the Buzzcocks, Loose Ends, and Friday Night with Jonathan Ross. He has also brought his piano and acting skills together to play Mozart in Amadeus, appeared as Judas in the anniversary production of Jesus Christ Superstar, and teamed up with the RSC to write the music and lyrics for Matilda The Musical, an award-winning production which has transferred to the West End and Broadway.
In cabaret, Tim presents highlights from his sell-out shows in London, New York, Montreal and Los Angeles. He will also pen bespoke songs for the occasion, which might well involve rather obvious product placement.
Print
© Copyright JLA: All Rights Reserved
PRESENTERS
£10K TO £25K
ENTERTAINMENT
£10K TO £25K
YOU MAY ALSO BE INTERESTED IN...
RVS: BEFORE THEY WERE FAMOUS
The following comedy luminaries all appeared on JLA's Real Variety Show - long before they became luminaries:

Bill Bailey

Frankie Boyle

/> Marcus Brigstocke

Ed Byrne

Jimmy Carr

Armando Iannucci

Sean Lock

Alistair McGowan

Michael McIntyre

Dara O Briain

Print
ALSO SEE OUR...