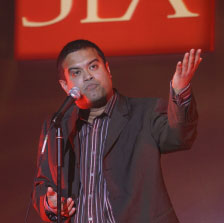 'Paul went down a treat - everything about the room seemed right and his routine was brilliant.'
Informa
EXTERNAL LINKS
JLA is not responsible for the content of external websites.
BIOGRAPHY
After turning to stand-up as a form of stress relief during his medical studies, Paul Sinha became the only practising GP to be nominated for one of Edinburgh's comedy awards.
Performing continued to be stress relief from Paul's work as a locum in the East End of London, whilst at the same time his experiences on the NHS frontline became a great source of material.
Paul's wonderfully relaxed, friendly story-telling style combines wry observations on life and the world with beautifully crafted one-liners, along with a fund of anecdotes from his experiences with patients and bureaucracy.
Having now forsaken doctoring, Paul is frequently heard on Radio 4 and 5 Live displaying his knowledge, passion and wit on current affairs and sport - especially cricket and football - on everything from his own documentary features to The News Quiz, The Now Show, Fighting Talk and Yes It's The Ashes. He also wrote and hosted his own documentary for Radio 4, The Sinha Test in which he looked at the intertwining of sport and nationality, a theme he revisited for the Olympics in 2012.
A quiz obsessive (and the UK's 22nd best quizzer) Paul also realised a life-long dream by appearing on special editions of both University Challenge and Mastermind. He also appears as a 'chaser' on ITV's quiz show The Chase. As well as participating in televised and pub quizzes, he also writes and hosts them. In addition, Paul made headlines when he offered Gordon Brown some tips on how to keep his jokes fresh.
Print
© Copyright JLA: All Rights Reserved
AFTER DINNER SPEAKERS
PRESENTERS
ENTERTAINMENT
£1K TO £2.5K
YOU MAY ALSO BE INTERESTED IN...