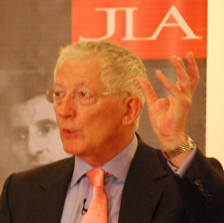 "Nick Hewer was fantastic. He had great wit, charm and intelligence."
Aeolus
EXTERNAL LINKS
JLA is not responsible for the content of external websites.
WIKIPEDIA
BIOGRAPHY
Nick Hewer is the host of Countdown and Lord Sugar's right-hand man on The Apprentice. His facial expressions, borne of wonderfully dry wit and a lifetime's business experience, tell you exactly what he thinks of the contestants.
Hewer's PR firm was selected to represent Amstrad in the eighties and soon became responsible for media handling of all Alan Sugar's business and charitable activities. For over 20 years Nick played an integral part in Amstrad's management structure. He also built a long and impressive client list, including the Secretariat of HH The Aga Khan and the wife of the ruler of Dubai, the late Sheikh Maktoum.
After selling the business, Nick withdrew to his house in south west France; but having become firm friends with Alan, he was called to negotiate on his behalf with the Apprentice producers. The tables were turned when Sugar persuaded Nick to take an onscreen role and promised to negotiate his fees. "I fought hard against it," he says, "but he cajoled me - in a muscular sort of way." Taking to television like a duck to water, Nick has since amassed a string of credits from Have I Got News For You to The Town That Never Retired and Countdown to Freetown.
Nick Hewer and his original opposite number Margaret Mountford became surprising stars of the hit reality show. Nick's after dinner speech takes audiences behind the scenes, before turning into an extended question and answer session. With The Apprentice consistently topping the ratings, there is never any shortage of questions.
Print
© Copyright JLA: All Rights Reserved
AFTER DINNER SPEAKERS
£5K TO £10K
PRESENTERS
£5K TO £10K
YOU MAY ALSO BE INTERESTED IN...
EXTRACT FROM JLA SPEAKERS BREAKFAST
I worked with Alan Sugar for many years, and my time always gravitated toward him because he was great to work for - there was always some row going on, a new venture, acquisition, litigation, overseas travel.

Then I got a call. The BBC had won the UK rights to a show called The Apprentice and he wanted to do it. At the time Alan Sugar was not at the top of the tree. But they recognised in him devotion, a penetrating mind, tremendous business sense, and also entertainment.

Alan said he would negotiate my fee for the programme. Now if you had the choice of anyone in the world to negotiate your salary, he's your man. Which was rather droll, as I'd been trying to get my PR fee up for years!

Someone told me that their 10 year old son was torn between watching the England v Ukraine match and The Apprentice. At the age of ten! Kids are glued to the programme - obviously for the entertainment, but they now understand about product selection, location, margins, profits - all of these things plus the psychological games.

The boardroom is terrifying. We brief Alan for hours. He has seen no footage. We then dump on him everything we've seen, and he will condense it onto half a page of paper. He has this great ability to tee up the three candidates so that all are equally culpable. We take it very seriously, because those kids deserve the best shot. There's no messing around, or taking the afternoon off.

The candidates at the end are bonded for life. For them it's been an extraordinary experience.
Print
ALSO SEE OUR...